Fifty and Fabulous:
California State University, Northridge/San Fernando Valley State College at the half-century mark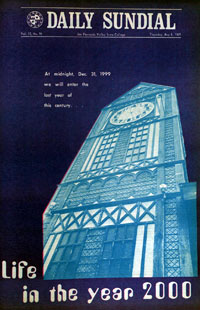 Front page of the Daily Sundial, May 8, 1969
September 22, 2008-August 02, 2009
C.K. and Teresa Tseng Gallery
Join us for an historical exhibition that looks at the establishment of the campus, student life, athletics, homecoming, student housing, the rise of protests in the 1960s -- even streakers in the 1970s -- as seen through photographs, yearbooks, student newspaper, documents, and memorabilia. Come find out what you don't know about CSUN!
Sponsored by Gus and Erika Manders and the Friends of the Oviatt Library. Parking $5.00 Persons with disabilities needing assistance and deaf and hard of hearing persons needing interpreters, please call in advance for arrangements.