January 16, 2015 to December 23, 2015
Library Exhibit Gallery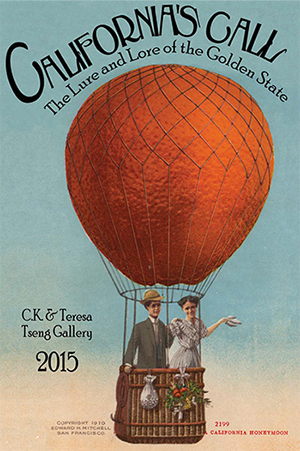 From the United States' earliest days the American West was lauded as a land of uncharted opportunity, with westward expansion the nation's ultimate destiny. California's mid-19th-century Gold Rush helped engender the myth of the state's endless possibilities. Late-19th-century descriptions of California as the "Land of Promise" and "Golden State" serve as further evidence of California's mythos and role in the American psyche as a place of affluence and growth.
A movement focused on California boosterism grew in the state in the late-19th and early-20th centuries. Boosters promoted and reinforced the myth of California, especially its residents' good fortune, health, and prosperity. Many, inspired and eager to believe what they saw in booster publications, moved west.
Much of the colorful literature on display in the gallery was meant to lure tourists and prospective residents to California through the use of captivating imagery and enticing descriptions of California's wonders. Though the state did not always live up to its overwhelmingly positive hype, the myth of California persists. For more information call (818) 677-2638.
Image from the California Tourism and Promotional Literature Collection.
Visitor Information
Parking is $8.00. For more information about parking please see Visitor Information.
To arrange assistance for persons with disabilities, including interpreters for deaf and hard of hearing persons, please call (818) 677-2638 in advance of the event.