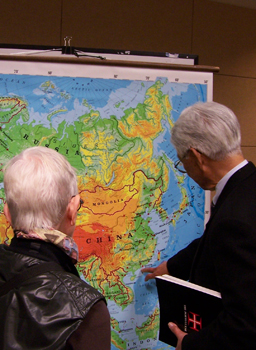 On March 10, 2013, an enthusiastic audience gathered at the Oviatt Library for the event opening two linked exhibitions celebrating some 500 years of Portuguese maritime skill, daring exploration and mutual cultural influence with China as exemplified by magnificent photographs of the tall ship N.R.P. Sagres,  which has roamed the world's oceans as the Portuguese Navy's school ship, and of the historic architecture of the port city of Macau, the first enduring point of contact between China and the West.
After welcoming remarks from Library Dean Mark Stover and Old China Hands Archives Director Robert Gohstand, the audience was treated to three illustrated lectures.  Maria Roliz, President of the Lusitano Club of California, traced the history and career of  the Sagres   tall ship.  Professor Robert Gohstand presented a lecture titled From the Sagres Peninsula to Macau--the Portuguese Epic of Exploration and Discovery, with maps, diagrams, and excerpts from Portuguese epic poetry, which reviewed some of the history of Portuguese exploration to India and beyond to China, and served to connect the exhibition subjects of seamanship and the ultimate settlement of Macau.  Finally, Arthur Britto, President of the Macau Arts Culture and Heritage Institute, reviewed the significance of the dual nature of the traditional architecture of Macau, which reflected the meeting and interaction of Chinese and Portuguese cultures.  The audience also enjoyed a delicious assortment of refreshments, sponsored by the Friends of the Oviatt Library.
The two exhibitions fill the central hallways of the Oviatt Library on the second, third, and fourth floors and will remain on display during library opening hours until May 31, 2013.
The exhibitions and the opening event are sponsored by the Oviatt Library and its Old China Hands Archives of the Department of Special Collections and Archives, the International Institute of Macau, the Lusitano Club of California, the Macau Arts Culture and Heritage Institute, and the Friends of the Oviatt Library.