Posted on October 22, 2013
Special Collections and Archives holds many books and collection materials that illustrate the unique history of Los Angeles in the years surrounding the turn of the twentieth century. The Los Angeles "Booster Myth," an outgrowth of Manifest Destiny, was largely perpetuated by real estate investors, commercial industry, and civic leaders in an effort to bring more settlers to Los Angeles and prolong the real estate boom of the 1880s. Publications such as The Album of Los Angeles & Vicinity sought to promote the myth of Los Angeles, or the idea that Los Angeles was a virtual paradise of sunshine, oranges, and prosperity. Between 1880 and 1890, the population of Los Angeles increased from 11,183 to 50,395. The steady influx of people to the area kept directory publishers like Corran's in business, as increasing numbers of people vacationed and often stayed to put down roots in Los Angeles.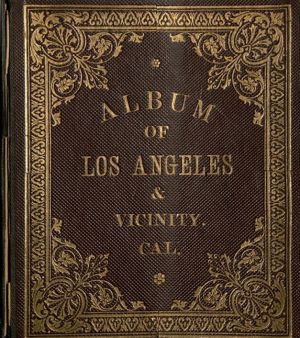 By the 1890s, it had become clear that in order to establish Los Angeles as a major business center, the city would need a port that could accommodate the constant flow of commercial shipping. As the Report of the Board of U. S. Engineers reads, "The future prosperity of this city depends on the location of its deep-water harbor." Throughout the 1890s, proposals for new ports in the cities of Santa Monica, Marina del Rey, Redondo Beach, and San Pedro were submitted. With support from numerous local politicians, business owners, and the federal government, San Pedro was selected as the site for a deep-water harbor, which began construction in 1899.
Several of the snapshots pictured below are part of the Southern California Photograph Album, which captures typical scenes from early twentieth century Los Angeles. Westlake Park was built in the 1880s, originally intended as part of the drinking water supply that connected to the city's systems of zanjas. Once Los Angeles implemented a pressurized water system, the lake area was turned into a park. By the early 20th century, Westlake Park was surrounded by luxury hotels and became known as the Champs-Élysées of Los Angeles. In 1942, Westlake Park was renamed MacArthur Park after General Douglas MacArthur.
Tourism has long been a mainstay of the economy in Los Angeles. Angels' Flight, built in 1901, is a well-known tourist attraction in Los Angeles. Formerly known as the Los Angeles Incline Railway, the photograph below pictures the newly built funicular in its original location at Hill and Olive Streets. While turn of the century travelers rarely bared their skin, Los Angeles' reputation as a popular beach destination goes back well before the bikini. And what would a visit to Los Angeles be without a drive by the stars' homes; in this case, the home of General Harrison Gray Otis, then publisher of the Los Angeles Times, was a popular tourist attraction.