Posted on November 26, 2012
The Travel Scrapbook Collection consists of two scrapbooks from 1919 that contain numerous photographs, postcards, and clippings documenting a months-long vacation from British Columbia to Japan, China, Singapore, the Philippines, Burma, and India. Though we do not know who took the vacation or made the scrapbooks, they are typical of those from the early 20th century in that photos and clippings were glued to black album paper, and captions were written directly onto the photographs themselves as frequently as they were written on the album pages.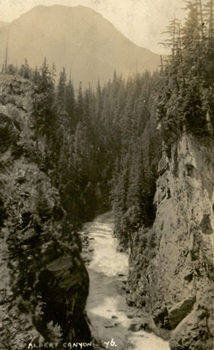 These travelers probably started their journey riding west on the Canadian Pacific Railway. They passed through the Canadian Rockies in Alberta and British Columbia, taking photos of the Three Sisters in Alberta, Lake Louise and Bow Falls in Banff National Park, and Kicking Horse and Albert canyons in British Columbia, as well as several other sites. After arriving in Vancouver, they spent some time sightseeing around the city at Stanley Park, Capilano Canyon, and nearby Victoria, and then departed via ocean liner for Yokohama, Japan, where they arrived after approximately 2 weeks.
Starting in East Asia, the travelers visited numerous cities in Japan in addition to Yokohama, including Tokyo, Kyoto, Nagasaki, and Kobe. They photographed Mt. Fuji and the Inland Sea, as well as numerous temples, native peoples, and other sites. In China they visited Shanghai, Peking, Hangchow, Hong Kong, and Canton, taking numerous shots of various harbors, buildings, and marketplaces.
In Southeast Asia stops were made in the Philippines at Manila where photos of a cock fight were taken, as well as Fort McKinley on the US Military Reservation. They traveled to Pagsanjian to observe the coconut cultivation industry, and Benguet to see the dog markets. Photos snapped in Singapore are of the waterfront, colonial government buildings, the Botannical Gardens, and a rubber plantation. In Burma (also called Myanmar) they took numerous photos in and around Rangoon (also called Yangon), especially of various parks and lakes, native peoples, and laboring elephants.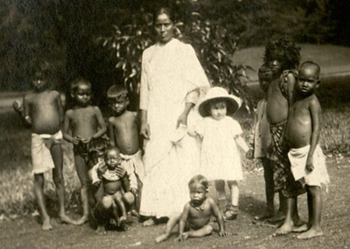 The second scrapbook is devoted to travels in India and other nearby British colonies, including Ceylon (now Sri Lanka) and Lahore (now the capital of Punjab Province in Pakistan.) It includes numerous photos of Bombay (now called Mumbai), especially the harbor, waterfront, and Victoria Gardens. The travelers also visited the Kanheri Caves and Taj Mahal.  Photographs of water buffalo, workers hauling salt, marketplaces, yogis, coolies, and "outcastes" were taken in Bombay and numerous other cities and locations in India, including Nasik, Bhopal, Poona, Benares ("Sacred city of the Hindus"), Delhi, Lucknow, and Calcutta.
Lastly, the scrapbook includes photos of the travelers themselves, a few of whom are named in captions, on boats and in exotic locales.  Some of the most fascinating images are of the travelers interacting with native people, as in "'Andy' and the monkey boy," or the shot of a young girl wearing a pith helmet, lace dress, socks and boots, surrounded by a Filipino woman in western clothing and several Filipino children, most of whom wear only cloths tied around their waists.