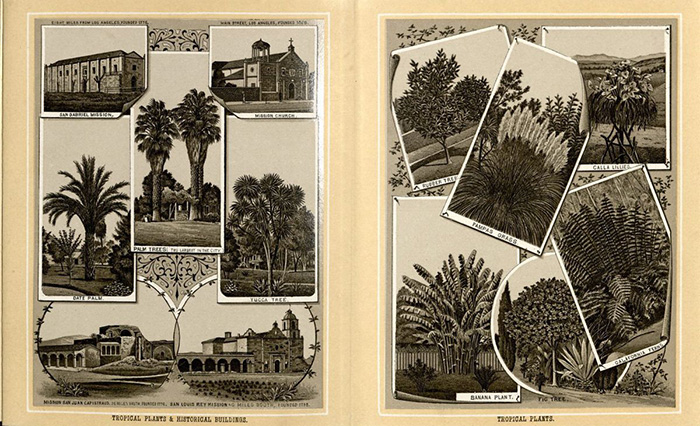 One of the most important ways that Special Collections and Archives continues its dedication to the preservation of local history is its membership in LA as Subject, a research alliance made up of more than 200 cultural heritage institutions spread across the Los Angeles region.
LA as Subject has its roots in a project titled, "L.A. as Subject: The Transformative Culture of Los Angeles Communities," which was a four-year local and comparative research project of the Getty Research Institute initiated in 1995. This project brought together educational and cultural institutions, and interested communities in a collaborative effort to explore and examine the diverse and often hidden collections that tell the stories of LA.
In 1996, L.A. as Subject collaborators formed the Advisory Forum, made up of over forty individuals and their affiliate institutions, including Special Collections and Archives at the library. Over the four years of the project, participants developed and presented a series of community exhibitions and a two-day symposium, culminating in the publication of Cultural Inheritance L.A.: A Directory of Less Visible Archives and Collections in the Los Angeles Region, and its companion online database.
Ten years later, LA as Subject launched its first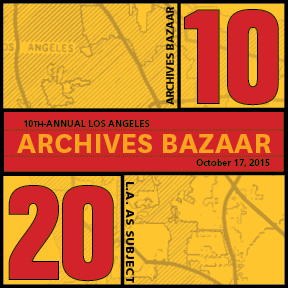 Archives Bazaar, an event which brought Los Angeles history alive through displays, panel discussions, demonstrations, lectures, and film screenings, all aimed at highlighting the many historical resources available throughout the Los Angeles area. This year, CSUN's Special Collections and Archives is proud to share in the 20th anniversary of LA as Subject and the 10th anniversary of the Los Angeles Archives Bazaar, to be held at the Doheny Memorial Library on Saturday, October 17th.
The event will feature a broad array of institutions and organizations, with experts on hand to show off their collections and answer questions. In addition to the wealth of information on display from exhibitors, the Bazaar will also feature a Day of Preservation, workshops and demonstrations; a program on how to research historical information about Los Angeles; a discussion on the history of imbibing in Southern California; a screening of Lost L.A., a new series from KCET on the hidden treasures of the city; and a panel discussion with some of the authors of LAtitudes: An Angeleno's Atlas, a groundbreaking new collaboration of cartographers, historians, scholars, and writers.
Among its most valued treasures, Special Collections and Archives holds a wide selection of narratives, pictorials, and rare publications related to the history of the greater Los Angeles area. Many of these works are authored or compiled by local historians or civic leaders whose perspectives may offer a unique view into the cultural values and social norms specific to the the time and place in which they were written. Below is a small sample of these important resources.