While we are working, attending class, and doing so many other things from home, our blog posts will focus on materials that have been digitized and can be accessed remotely. We'll continue to include links to our finding aids and other information about physical access, as well.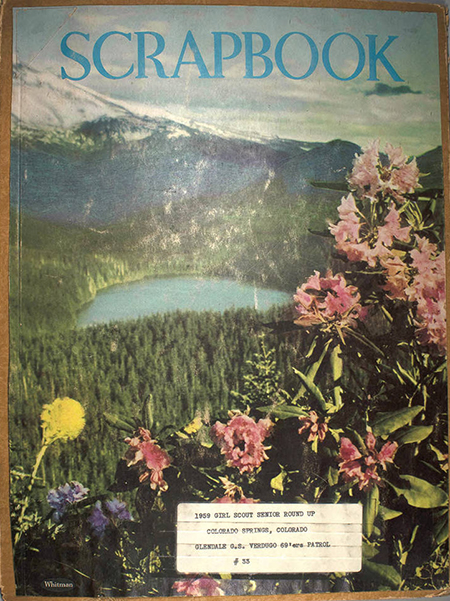 A child's youth can be a tumultuous time. To assist children and teenagers, many youth groups offer structure, companionship, adventure, education, and a place to grow to their own. The Girl Scouts is an organization that helps young girls and women in particular grow into productive and contributing members of American society. Founded in 1912 by Juliette Gordon Low, the Girl Scouts program promotes kindness towards others, courage in your thoughts, confidence in yourself, leadership, interpersonal skills, entrepreneurship, and active citizenship.
Similar in some ways to the Boy Scouts, the Girl Scouts have a structure of their own with participation primarily based on grade level and age. The youngest Girl Scouts are called Daisies, with members next becoming Brownies, Juniors, Cadettes, Seniors, and finally Ambassadors. Michelle Obama, Hillary Clinton, and Laura Bush were all Girl Scouts in their youth. The President of California State University, Northridge, Erika D. Beck, was a Brownie in her youth.
As part of an IMLS-funded archives residency program at CSUN, USC, and CSUDH, a current Ambassador Girl Scout has worked to digitize archival material from the Crescenta Valley Girl Scout Service Unit as part of the library's Digital Collections. The collection has been titled Hometown Heroes: Girl Scouts of the Crescenta Valley Collection. The physical materials are held at the Girl Scouts of Los Angeles Montrose Program Center.
The collection includes a 90-year-old program from a Girl Scout Talent show, with more recent items from the mid-1990s. The collection has eighteen Brownie-related items that could be helpful to someone studying this group. Another significant resource in the collection is the Scrapbook Historical Newsmedia file for Troop #274. This scrapbook is 77 pages long and gathers information about the troop activities from 1956-1960. A researcher will find newspaper clippings, photographs, and other memorabilia documenting the girls' activities, including the ever popular cookie drive.
The collection has two other intriguing scrapbooks documenting the first and second Girl Scout Senior Roundup, two events that would have been the highlight of each girl's time in the Girl Scouts. Admission to the round up was by invitation only. The scrapbook for the First Girl Scout Senior roundup held in 1956 has 44 pages. The scrapbook for the Third Girl Scout Senior roundup held in 1962 has 44 pages. The 1962 roundup had about 9,000 Girl Scouts in attendance from around the world.