Posted on October 19, 2021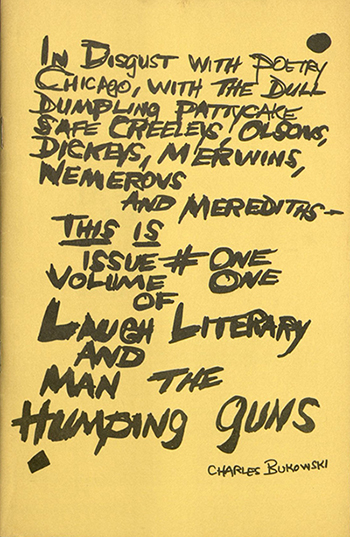 In 1969 American poets Charles Bukowski and Neeli Cherkovski began producing a literary magazine titled Laugh Literary and Man the Humping Guns. Bukowski and Cherkovski published the mimeographed magazine from their own Los Angeles Laugh Literary press, located in a building that still stands at 5124 De Longpre Avenue.
They produced three issues over the next two years, all of which are held by Special Collections & Archives. Each issue was filled with Bukowski and Cherkovski's poems, illustrations, and other writings. Additional contributors included Jack Micheline, Douglas Blazek, Jerome Rothenberg, and other poets.
Laugh Literary was part of the "mimeograph revolution." Each issue was produced via inexpensive mimeograph machines, similar to modern photocopiers. They were stapled together after being wrapped in a colored paper cover. Within a few years, Bukowski denounced the mimeograph trend, despite Laugh Literary's production and circulation helping him become a well-known and highly regarded American poet.
The yellow cover of the first issue features a sort of manifesto in which Bukowski rails against the literary establishment. The second edition featured a new subtitle: "Dirty Poems for Your Suicide LIves." Bukowski and Cherkovski, called "Neeli Cherry" in each volume, were joined by contributing editors Harold Norse and Steve Richmond. According to rumor, Bukowski was hugely disappointed by the quality of submissions to the second and third issues, and authored several poems himself that he published under pseudonyms to fill the pages. The cover of the third and final issue of Laugh Literary featured a photograph described as showing "Bukowski, a Hollywood window-washer, and N. Cherry."
Though only three issues of Laugh Literary and Man the Humping Guns were produced, the contents are largely dirty realist and transgressive in style. It includes notable Bukowski poems like "The Grand Pricks of the Hob-Nailed Sun" and "I Thought I Was Going to Get Some," as well as several Bukowski and Cherry illustrations.