Project Overview  |  Context  |  GRI Tool  |  Objectives  |  Research  |  Sample GRI
Overview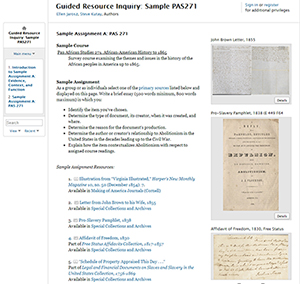 Over the course of the Fall 2013 term CSUN librarians Ellen Jarosz and Steve Kutay will undertake a pilot project to develop an instructional tool to incorporate primary and archival sources in Special Collections and Archives, the Oviatt Library's Digital Collections, and other locations into undergraduate learning at CSUN in the Document Based Question (DBQ) format. The tool and templates we create will allow teaching faculty to provide context, create assignments or prompts, and present a set of primary and secondary sources available in myriad physical and virtual locations within a single interface.
To Learn More
Please review the rest of this site using the tabbed links above, and view our GRI Sample Assignments:
To Participate
Are you a faculty member at CSUN interested in developing an assignment for your undergraduate course using this new tool? If so, please contact Ellen Jarosz (ellen.jarosz@csun.edu) or Steve Kutay (stephen.kutay@csun.edu) to talk more in depth about how we might proceed.