Library Exhibit Gallery
September 20, 2011-July 27, 2012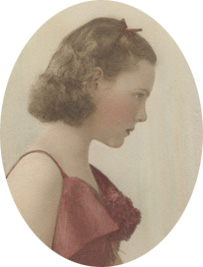 Few families have played a larger role than the Mulhollands in the development of Los Angeles and the San Fernando Valley. Catherine Mulholland's grandfather, William Mulholland, was Chief Superintendent of the Los Angeles Bureau of Water Works and Supply (now the Department of Water and Power.) As such, he built the Los Angeles Aqueduct, which to this day brings water from the Sierra Nevada Mountains and Owens Valley to the San Fernando Valley and greater Los Angeles.
William's eldest son and Catherine Mulholland's father, Perry, established and managed a 640-acre ranch for himself and his four siblings on land in the San Fernando Valley. Known as the Mulholland Orchard Company, the ranch remained in operation until 1965 and encompassed large portions of what are now the communities of Northridge and Canoga Park.
Catherine Mulholland loved libraries, CSUN's in particular, and donated her personal archives and those of her family to the Library in order to preserve this important history for future generations. Her remarkable collection, dating back to the 1860s, is a journey through Valley history as seen through photographs, scrapbooks, memorabilia, clothing and ranch records of this pioneer family.
Curated by Holli Teltoe.