This event is now past.  Check out our upcoming events on the WISE front page.
Networking Opportunity and Mixer

Join us for our pre-PI Day Celebration where you will hear from scientists,
engineers, educators and other STEM professionals who will share insights
into their careers in science, computer technology, engineering and math.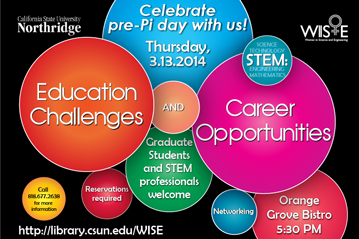 Thursday, March 13, 2014
5:30 - 8:00 PM
Orange Grove Bistro
California State University, Northridge
18111 Nordhoff Street • Northridge, CA 91330
Reservations appreciated by March 10, 2014 to Joyclyn at (818) 677-2638 or email jdunham@csun.edu.
Free event parking in lot G1. Must be 21 or over to attend. For additional information call (818) 677-2638.
Persons with disabilities needing assistance and deaf and hard of hearing persons needing interpreters, please call in advance for arrangements.