eNews Edition: Fall 2017
Contributed by Oviatt Library Student Assistant Debbie Salazar
After two years of renovations and a complete transformation Special Collections & Archives is ready, and it shouts "all eyes on me." The Oviatt Library's Special Collections & Archives houses many unique treasures. It is the home of CSUN's rare book and periodical collections, as well as its archival and manuscript collections (for more, see About the Collections). In celebration of the expansion and to honor Jack and Florence Ferman's generous $2.5 million dollar bequest, campus dignitaries and the CSUN community will gather for a grand reopening event on Thursday, January 18, 2018.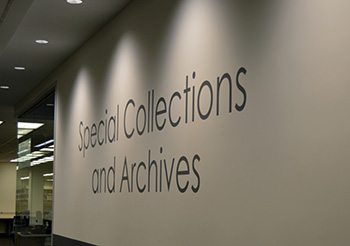 Special Collections and Archives houses 50,000 cataloged items, including rare books, art, manuscripts and archives, historical and important periodicals, photographs, audio and video recordings prints, and maps. Many of these rare and valuable materials are housed in the department's new temperature and humidity-controlled high-density storage facility. Thanks to the generous gift by The Jack and Florence Ferman Trust the Oviatt Library will grow its collection, and will continue to maintain and preserve the resources it holds.
Conserving historical materials is a craft which was very familiar to the Fermans. Jack Ferman was a businessman and Florence Ferman was an artist and a CSUN alumna; both were long-time friends of the Oviatt library. Philanthropists at heart, the Fermans left behind their legacy with a transformative gift that will continue to impact the lives of students and generations to come.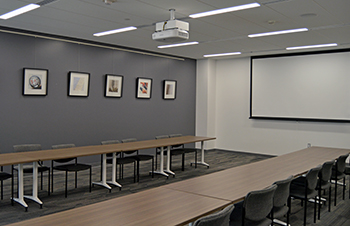 The expansion and renovation opening event will be held at the Oviatt Library, the heart of the University's campus. It will take place on the 2nd floor of the Library, adjacent to the Special Collections and Archives. You can RSVP online, or by calling (818) 677-2638. For additional information about the Special Collections & Archives Opening, or to learn more about all Library events, please visit Exhibitions and Events or call (818) 677-2638.