Welcome to the Library's Drupal Guide!  Please note that the following instructions apply ONLY to the Oviatt Library's web site.  It is not intended as a guide for using Drupal elsewhere.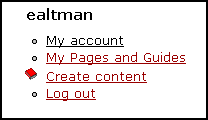 You will STAY LOGGED IN after you close your browser unless you click the Logout link in the user navigation menu, or if your browser is set to delete cookies after a browser session.
Once you are logged in you will have access to the user navigation menu on every page of the site.
My Account
Clicking My Account in the user navigation menu will take you to your user profile, which includes information about your account, information that you have provided for the librarian contact block, information about broken links on your pages, and access to web assets you've uploaded through Drupal.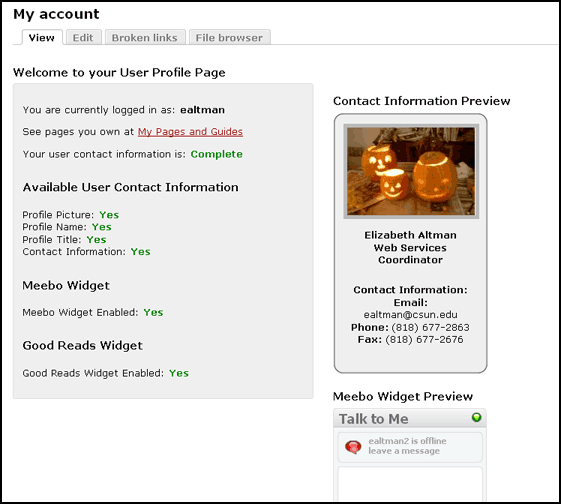 To change any editable information, you need to click the Edit Tab.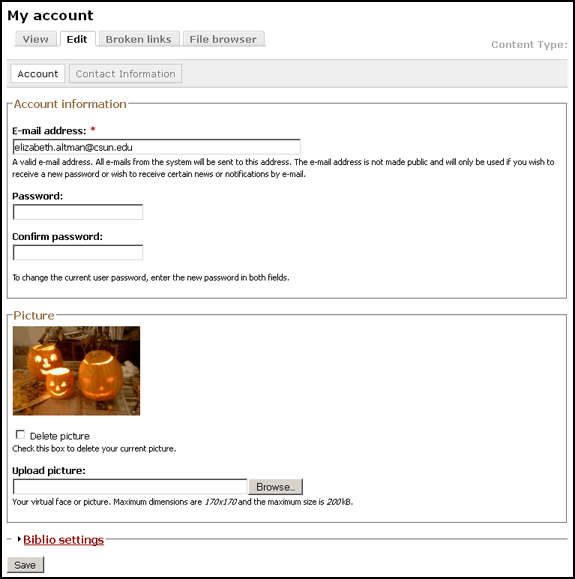 In the Account section of the Edit tab you can upload a new profile picture (a new profile picture deletes the previous one).  Click Save before you navigate away from this section.
DO NOT EDIT the account information – if you change your CSUN password, your Drupal password will automatically update.
To update your contact information, go to the Contact Information section of the Edit tab. When you update, remember to Click Save before you navigate away from this section.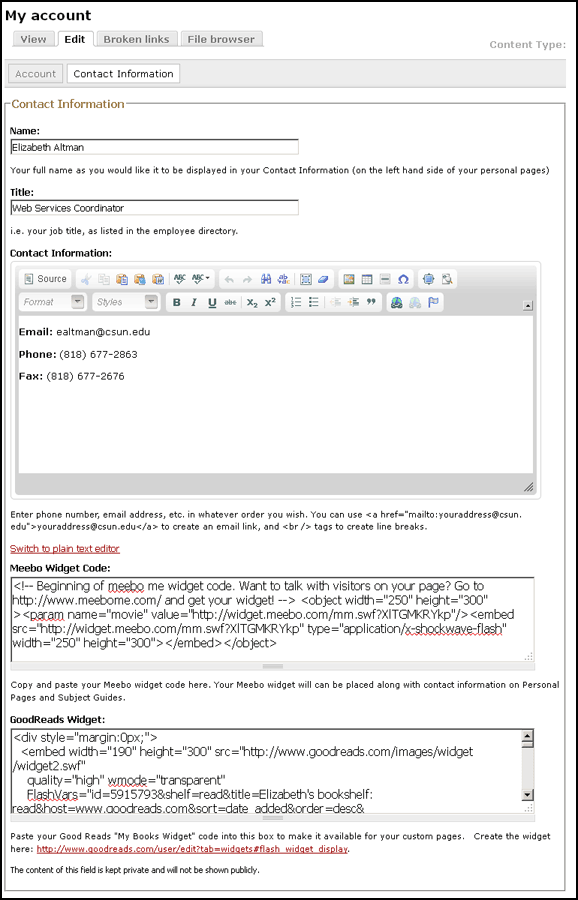 Also in Contact Information: Meebo Widget and GoodReads
If you have a Meebo online chat identity, you can paste your Widget into the Meebo Widget Code box.  The widget will be available for display on a personal page, subject or course guide.  If you have  a GoodReads account, you can paste the code for a widget displaying your favorite books in the GoodReads Widget box. This is then available for display on any personal page.
You can get an overview of all broken links on your pages in the Broken Links tab.  Not all links are truly broken.  Error codes you should not ignore include:
404 – Not found : You need to find an updated URL
301 – Not found (or no message): This is a redirect.  You should update the link.  You may see this reported for http://library.csun.edu/xerxes/ if you don't add a slash at the end of the URL.
0 – : Manually check the link to see if the server still exists
-111 – Connection refused : Manually check link