January 30, 2012 to May 31, 2012
Library Lobby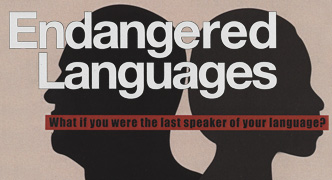 What if you were one of the last speakers of your language? Though it seems improbable, almost one half of the world's 7000 languages are endangered – many have fewer than 25 living speakers. If nothing is done, these languages will die in this century, taking with them thousands of years of unique history, memory, culture and thought. Visit the Endangered Languages Exhibit in the lobby of the Oviatt Library to learn more about this linguistic crisis.
Co-organized by the CSUN Linguistics Club, the Oviatt Library, and the Linguistics/TESL Program. Curated by members of the CSUN Linguistics Club (Andrés Aguilar, Nooshan Ashtari, Erin McCoy, Debbi Mercado, Yuliana Miranda and Karina Otaryan) with the assistance of the Library Linguistics/TESL Bibliographer (Luiz Mendes) and Music & Media Supervisor (Dean Arnold).
Assistive Services
Requests for accommodation services (e.g., sign language interpreters or transcribers) must be made at least five (5) business days in advance. Please call (818) 677-2638 in advance of the event.