September 8, 2009 to August 31, 2010
Library Exhibit Gallery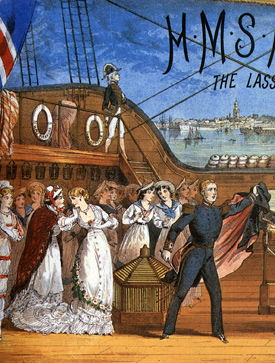 Gilbert and Sullivan operas have been enjoyed by countless theater goers since they were first performed over 100 years ago. Their characters and music continue on in our culture in many ways. Come join us and be entranced by the David Trutt Gilbert and Sullivan Collection with its Peter Goffin posters, music scores, Bab Ballad books, theater programs, advertising cards, and other ephemera produced for fans of W.S. Gilbert and Arthur Sullivan. Curated by Tony Gardner.
Reception: October 13, 2009 (more details to follow)
Sponsored by Gus and Erika Manders, Friends of the Oviatt Library, and Stephen M. Dell'Aversano, D5 Designs, Ltd. Parking $6.00.
For information call (818) 677-2638. Persons with disabilities needing assistance and deaf and hard of hearing persons needing interpreters, please call in advance for arrangements.
Assistive Services
Requests for accommodation services (e.g., sign language interpreters or transcribers) must be made at least five (5) business days in advance. Please call (818) 677-2638 in advance of the event.