April 10, 2008 to May 22, 2008
Library Lobby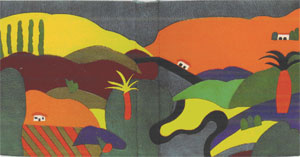 The Hand Bookbinders of California celebrated their 35th anniversary with an exhibition of members' hand-bound books in the lobby of the Oviatt Library. The show featured the work of professional bookbinders, as well as amateurs and students of the art and craft of hand bookbinding. Examples from finely gold-tooled leather bindings to avant-garde artist's books, and innovative designs that range from the traditional to the unexpected were on display.
The Hand Bookbinders of California was formed in 1972 in order to create a forum where people practicing and interested in the book arts could exchange information and promote their interests. Membership is open in HBC is open to anyone with an interest in books and bookbinding. More information about the organization is available on their web page, http://www.handbookbinders.org.
Visitor Information
Parking is $8.00. For more information about parking please see Visitor Information.
To arrange assistance for persons with disabilities, including interpreters for deaf and hard of hearing persons, please call (818) 677-2638 in advance of the event.