September 20, 2011 to July 27, 2012
Library Exhibit Gallery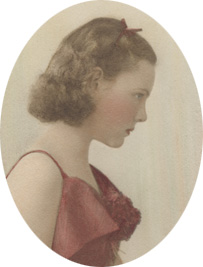 Over the years, Catherine Mulholland, who loved libraries and the Oviatt in particular, donated her personal archives and those of her family to the Library, understanding the importance of preserving the past for future generations. This remarkable collection, dating back to the 1860s, is a journey through Valley history as seen in the photographs, scrapbooks, memorabilia, clothing and ranch records of this pioneer family. We invite you to come share the story of the Ijams, Haas, Perret, Ferguson and Mulholland families.  Curated by Holli Lovich.
Visitor Information
Parking is $8.00. For more information about parking please see Visitor Information.
To arrange assistance for persons with disabilities, including interpreters for deaf and hard of hearing persons, please call (818) 677-2638 in advance of the event.