February 24, 2015 - 9:00am to 11:00am
Jack & Florence Ferman Presentation Room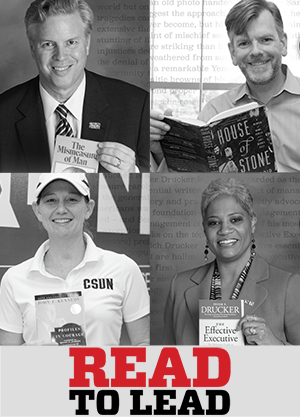 The Oviatt Library is pleased to host the second panel discussion of the Read to Lead initiative, featuring panelists from a variety of backgrounds with one common theme: how reading has enriched their personal and professional lives.  Our distinguished panelists will discuss literature ranging from non-fiction to poetry and how it has shaped their leadership philosophies.
The Read to Lead Initiative includes 20 of our campus leaders from CSUN faculty, staff, students and alumni, all of whom will be featured in a physical exhibition in the Library.
Panelists: 
Dean Michael Spagna, Dean of the Michael D. Eisner College of Education -The Mismeasure of Man by Stephen Jay Gould
Thor Steingraber, Executive Director of the Valley Performing Arts Center - House of Stone: A Memoir of Home, Family, and a Lost Middle East by Anthony Shadid
Gina Umeck, Head CSUN Women's Golf Coach - If, a poem by Rudyard Kipling
Deborah Wallace, Associate Vice President of Financial Services -The Effective Executive by Peter Drucker
Please RSVP no later than February 23, with Fatema Noor at 818-677-5081 or via email at Fatema.noor@csun.edu
Assistive Services
Requests for accommodation services (e.g., sign language interpreters or transcribers) must be made at least five (5) business days in advance. Please e-mail library.event@csun.edu in advance of the event.