February 1, 2008 to August 1, 2008
Library Exhibit Gallery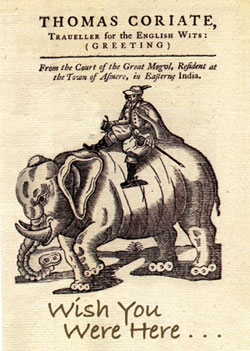 The travel writer's role is to be the tourist's perfect companion: to be articulate, well-informed, a skilled raconteur; to include a fair share of the unusual with a dash of the exotic; to tell it with infinite zest. It was Herodotus who set not only the pattern but the standard.
– Lionel Casson, Travels in the Ancient World
Since antiquity, curiosity about the known world has compelled the adventurous to travel. Over time they have set out by foot, carriage, ship, and train to reach their destinations. Their own travel accounts guided others who followed. This exhibition from the Oviatt Library's collections gathered travel accounts, guide books and other tourist literature from the time of the ancient Greeks through the early 20th century.
The exhibition was sponsored by the Friends of the Oviatt Library and Gus and Erika Manders.
Visitor Information
Parking is $8.00. For more information about parking please see Visitor Information.
To arrange assistance for persons with disabilities, including interpreters for deaf and hard of hearing persons, please call (818) 677-2638 in advance of the event.