U:\ Drive Service Notification
Notice: The U:\ Drive will no longer be accessible on any Library Computer Station as of March 29th, 2019 due to security risks. If you need to access the U:\ Drive after this date please contact CSUN IT. We apologize for the inconvenience.
The Library has equipped 4 assistive technology rooms with a wide range of sophisticated hardware and software designed to increase access to Library resources for students with disabilities. The rooms are located on the first floor of the west wing. Students wanting to use the rooms can obtain a key at the circulation desk. They will be asked to present their card from the Disability Resources and Educational Services (DRES) that shows they have received training on the equipment.
Each room has the following capabilities: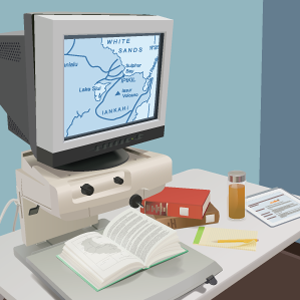 Ergonomic chair, and electrically adjustable table
Core i7/3.40 GHz PC, with a 22" LCD Widescreen panel
Scanner for OCR
Software available includes:
Internet Explorer & Chrome web browsers, including access to the Library's Electronic Resources
Microsoft Office (Word, Excel, Powerpoint, Access and Publisher)
Second Life Viewer 2
Jaws 15.0 - screen reader
Kurzweil 3000 - text reader with visual highlighting of words
ZoomText 10 - magnifier/screen reader
Inspiration 9 - cognitive mapping program
DragonNaturally Speaking 11.5 - speech recognition
FS Reader 3.0
Math Player 3.0