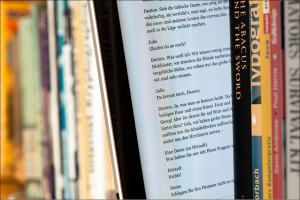 Hello Matadors! Congratulations on completing your fall semester finals, and happy winter break! The Library building continues to be closed but feel free to browse the University Library's digital collections and other resources for novels or other books to read during break.
If you are looking for a fun or interesting read, we have plenty of titles to choose from. Use our OneSearch tool to narrow your search results to a particular genre or topic. The "Books" and "Available online at CSUN" filters, in the left column, will allow you to narrow your results to e-books only.
Looking for more leisure reading e-titles? Here are a few additional resources you can search and access on the web for free.
Authorama: browse this public domain book site for a variety of e-books by Lewis Carroll, Emerson, Kafka, and more.
Bibliomania: search through more than 2,000 classic e-texts, also includes some study guides, and reference works.
Bookyards: discover over 24,000 e-books, plus links to other digital libraries.
e-book Directory: access more than 20,000 e-books that include children's books, literature, and information technology.
Free-eBooks.net: browse topics for e-books such as biography, fiction, games, history, and more.
Internet Archive Open Library: discover 200,000 million records for e-titles.
The Project Gutenberg: search the oldest book search engine offering more than 60,000 free titles.
The Online Books Page: access 3 million free e-books, site powered by the University of Pennsylvania.
Read Print Library: discover novels, poems and more.
Finally, for additional reading options, don't forget to check out LAPL's collection. Don't have a LAPL e-card yet? Get one for free at LAPL.org.
Happy reading and happy winter break!