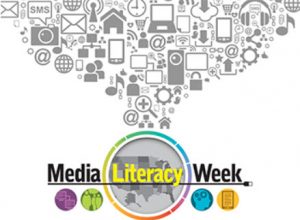 Hey Matadors! This week is National Media Literacy Week, and the Oviatt Library is partnering with the Journalism Department and NewseumED to bring you some exciting events. There will be a screening and live-tweeting of the documentary "The Great American Lie" on Thursday, October 24 from 11 a.m.-12:30 p.m. in the Jack & Florence Ferman Presentation Room.
The documentary, by Emmy Award-winning filmmaker and First Partner of California, Jennifer Siebel Newsom, exposes social and economic immobility viewed through the lens of our gendered values.
Refreshments will be served. For more information visit our RSVP page.
Also to celebrate National Media Literacy Week, we invite you to come hang out at a News Salon with students in Jour365 – News Literacy on Tuesday, October 22 from 12 p.m. until 3:30 p.m. to discuss and exchange ideas about politics, culture, and the arts in the Oviatt Library Learning Commons, near the Reference Desk.
This informal discussion is a collaborative effort between the Mike Curb College of Arts, Media and Communication Department of Journalism, NewseumED, and the Oviatt Library. We hope to see you at both events!