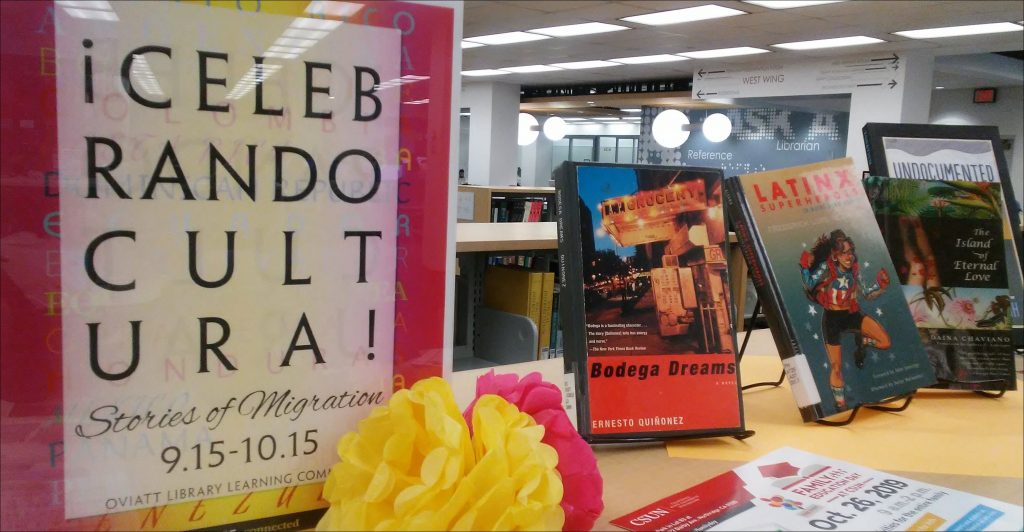 Today we celebrate the diverse and rich history of the Latinx community spanning centuries. Each heritage month has it's own history. Hispanic Heritage month first began in 1968 as Hispanic Heritage Week and later expanded to cover a 30 day period in 1988 and is now officially September 15 to October 15. Mid-September was chosen because it is the anniversary of independence for many Latin American countries.
For this year's Hispanic/Latinx Heritage Month we offer a book display entitled Celebrando Cultura: Stories of Migration. We chose the theme of migration and books to reflect the many paths migrants have taken on their journeys to better opportunities and futures. Some are fictionalized and others based on the author's life experiences or that of their ancestors. Whether trying to escape oppressive governments, crushing poverty, or just having the freedom to be true to themselves and who they were meant to be, these books demonstrate that migration (in either the literal or metaphorical sense) isn't always an easy choice. Each of these books brings up various questions for readers to ponder – How did the act of migration affect the journey taker, their loved ones and the subsequent generations of their own families? If they stayed in their country would they have survived? What challenges did they experience in their new countries/homes/states of being?
We hope you enjoy and connect with the myriad of stories presented in the collection of books that celebrate the Latinx community!