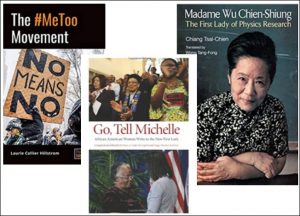 Hi Matadors! March is Women's History Month and we invite you to explore the University Library's Women's History Month virtual book display that highlights many accomplishments of women and the impact of their contributions in our every day lives. While these stories are inspiring, they also help to provide a deeper understanding of women's contributions in the areas of activism, engineering, science, politics, sports, humanitarianism, the arts, and more. In many instances, these stories describe how far women have advanced, and yet they can speak to the challenges that lie ahead as well.
All of the books within this display are electronically available through the University Library and require logging-in with a CSUN User ID and password.
For more information about Women's History Month, visit womenshistorymonth.gov which encourages the study and celebration of the role of women in history.