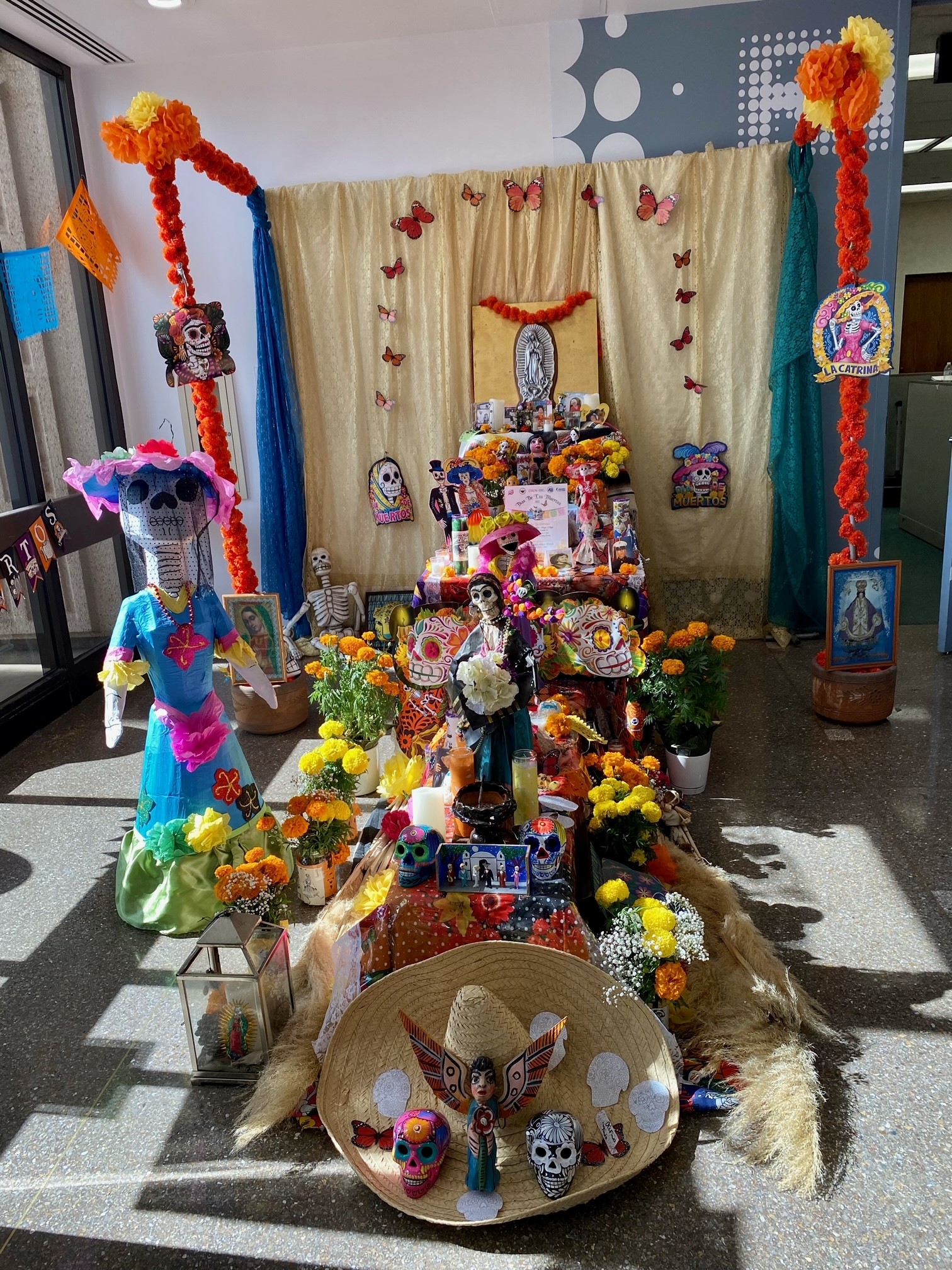 The Library Ofrenda
CSUN University Library has partnered with Chicana/o Studies (CHS) students and faculty to build an altar for Día de los Muertos. This year's ofrenda is a reflection of our vibrant, inclusive, and expansive community. We are proud to hold this space for remembrance and connection, as this becomes a tradition in the Library.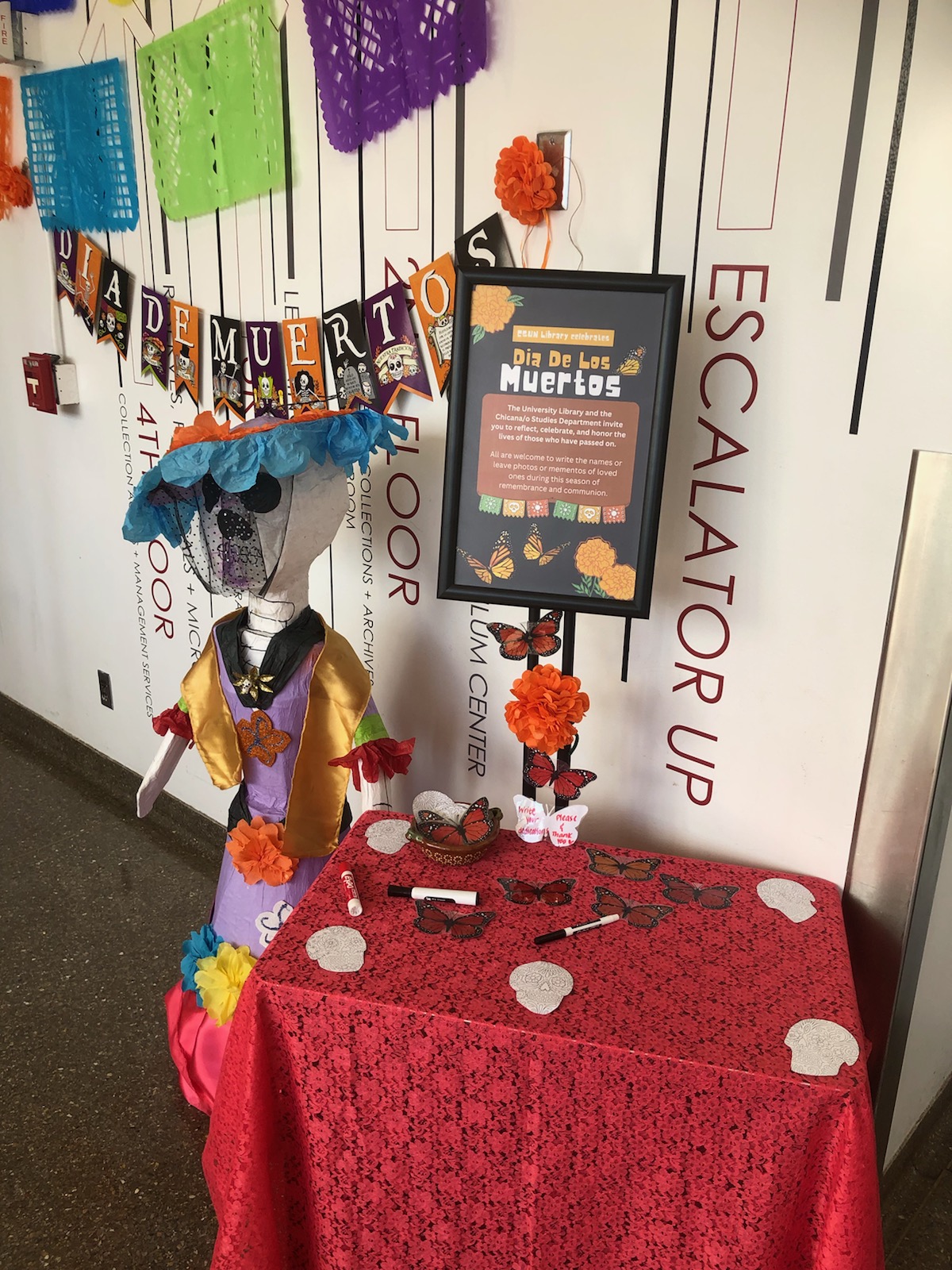 Ways to engage, physically and virtually
The altar in the Library can be found near the Main Entrance, near the RIOS office door (left of Freudian Slip and the up escalator on the main floor). It will remain up until November 4th. This year's altar was built under the guidance of CHS graduate student and artist Candy Angel-Diaz, and Cindy Padilla, a CSUN alumna, full-time staff member at the Tseng College, and lecturer/faculty in the CHS department.
The whole Library and CSUN community is invited to engage with the altar. You welcome to leave a name, photo, memento, or artifact to remember and connect with any loved ones that have passed on. Laminated butterflies and markers as well as paper calaveras will be available for anyone to decorate or write a name for the ofrenda. All are invited to incorporate elements reflecting communities and heritages.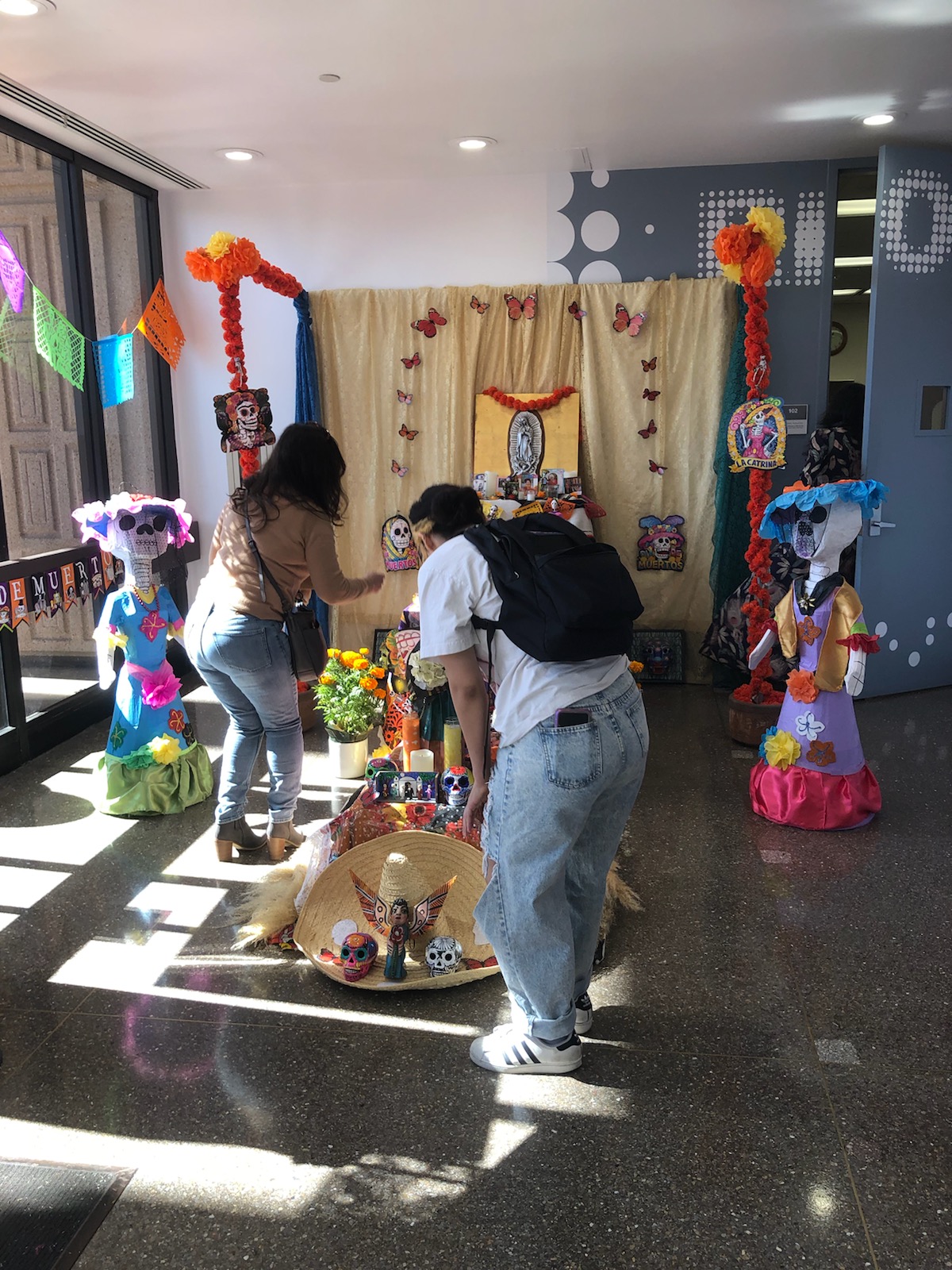 It is important in this time to make space for grief, loss, and the continued struggles we face. Connecting with our loved ones–those still here and those past–is a part of healing as well as fortifying our communities. The Library continues to invite our CSUN community to share stories of loved ones lost to the ongoing pandemic as part of the COVID-19 archives. Those that cannot make it to campus can also send a photo to print and place on the altar to brianna.limas@csun.edu.
To learn more about the cultural practice and engage in other ways, we encourage you to check out Día de los Muertos events around CSUN campus and beyond.
Events around CSUN:
November 1st-3rd at Plaza del Sol, University Student Union, Sol Center Lobby

Join the Pride Center, Dream Center, and the Veterans Resource Center for Día de los Muertos, a traditional celebration and remembrance of the lives lost in our communities. Starting Tuesday, Nov. 1, an altar will be on display at the Sol Center Lobby paying tribute to members of our communities who have crossed over. Then, on Thursday, Nov. 3, join in on the Dia de los Muertos celebration and grab some traditional foods like conchas, café, and tamales!

November 3rd & 4th at Chicanx House:

Thursday Nov. 3rd, 4:45pm-9:30pm: Noche de Ofrenda (Procession at Jerome Richfield, Program at Chicanx House, and Community Ofrenda)
Friday Nov. 4th, 6pm-midnight: Miccailhuitl (Celebration at Chicanx House)
Events around LA and the Valley:
Tuesday, November 1st & Wednesday, November 2nd, Pacoima Beautiful Community Altar

Stop by Veteran's Memorial Park on November 1, 2022 between 9am-4pm to help us build our community altar. All are welcome to bring pictures and ofrendas to honor your loved ones. Then join us on November 2, 2022 as we honor our loved ones at our Día de los Muertos Community Altar! We will be serving hot chocolate and pan dulce. We will also be facilitating an art activity!