Thank you to Librarian Lynn Lampert for this contribution to the Cited blog!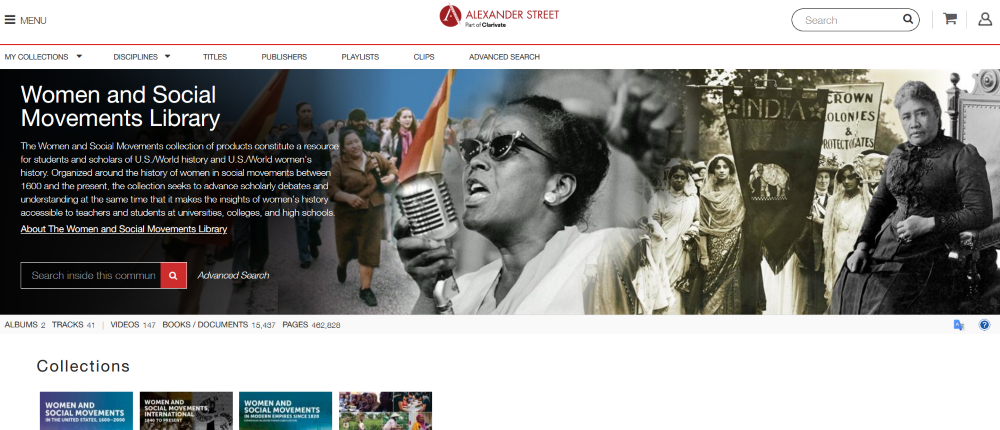 In addition to the titles on display in our Physical and Virtual Book Displays, The CSUN University Library invites CSUN Students, Faculty, and Staff to celebrate Women's History Month by exploring our database subscription access to the Women and Social Movements Library database (Alexander Street). This amazing digital resource is, "Organized around the history of women in social movements between 1600 and the present…[and] database users can track women activists globally and trace particular themes in national, international, or transnational contexts". The Women and Social Movements Library unites three databases and multiple collections to allow you to browse and search for information on women's activism globally and explore themes in national, international, or transnational contexts. The database's engaging coverage of issues via primary source documents as well as secondary source essays provides in-depth coverage of both US and global women's movements, events, and their historic and change-making activism.
The database is divided into several individual digital collections that cover: Women and Social Movements in the United States,1600-2000; Women and Social Movements, Modern Empires Since 1820; Women and Social Movements: Development and the Global South, 1919 – 2019; Women and Social Movements, International.
Here are some examples of the Featured Content presented by this database:
#EmpireSuffrageSyllabus seeks to enrich our historical understanding and pedagogy by placing the U.S. suffrage movement in a much broader context—temporally, thematically, and geographically—than it has traditionally been conceived. Viewing the struggle for the vote as only one piece of women's quest for greater power, the project charts the expansive scope of women's political activities, focusing in particular on their involvement in a wide range of social movements. Above all, it insists that recognition of the U.S. as an empire and an appreciation of the intertwined development of democracy and imperial power is crucial for understanding how, why, and when some women obtained the vote, while others did not.
Online Biographical Dictionary of the Woman Suffrage Movement in Women and Social Movements in the United States, 1600-2000
The Online Biographical Dictionary of the Woman Suffrage Movement in the United States is a freely-accessible resource now containing 3,250 biographical sketches of grassroots women suffragists. When complete the database will include crowdsourced biographical sketches of more than 3,500 women suffrage activists, primarily concentrated in the period 1890-1920. This collection includes white and black suffragists, mainstream and militant suffragists. The sketches place women's suffrage activism within the frame of women's broader social reform agendas, before and after the passage of the 19th Amendment in August 1920.
Transgender in the Heartland: Transitioning and Seeking Community in Middle America in Women and Social Movements in the United States, 1600-2000
This document project, created by Jamie Wagman, consists of oral history interviews, including both audio files and transcripts, of twenty transgender women and men who grew up or currently live in the Midwest, many in small towns and rural areas. The interviewees' narratives, as Wagman writes, show that "there is no singular way of coming out or transitioning as transgender, just as there is no singular formula for finding support and community.
Dorothy Kenyon Papers, 1850-1998 in Women and Social Movement International—1840 to present
Lawyer, feminist, judge, and political activist. The Kenyon collection illuminates the continuity of social activism around such issues as race, class, poverty, and gender from the 1930s-60s. Topics reflected include worldwide suffrage; abortion rights; minority legal rights; the Equal Rights Amendment; and civil rights. Materials include writings, speeches, organizational records, photographs, memorabilia, and audio tapes of interviews and speeches. Significant correspondents include: Bella Abzug, Florence Allen, Roger Baldwin, Mary Dewson, India Edwards, Felix Frankfurter, Betty Friedan, Hubert Humphrey, Fiorello LaGuardia, Frieda Miller, Constance Baker Motley, Pauli Murray, Edmund Muskie, Eleanor Holmes Norton, Harriet Pilpel, Eleanor Roosevelt, Elihu Root, Anna Lord Strauss, and Harry Truman.
Interviewing: Sonia Alvarez, September 30, 2011, Amherst, MA in Women and Social Movement International—1840 to present
The editors of Women and Social Movements International organized two extraordinary sessions at the 2011 Berkshire Conference in Women's History, assembling six leaders who have shaped women's international activism through the United Nations' Conferences on Women, 1975-1995. Here you can access the interview of Sonia Alvarez. Other interviewees include: Charlotte Bunch; Arvonnne Fraser; Rounaq Jahan; Devaki Jain; Mildred Persinger and Peggy Simpson.
Today's Arab Woman,' special issue of 'The Arab World,' Volume VI, Nos. 5-6 in Women and Social Movements in Modern Empires since 1820
This magazine issue discusses various matters related to the concerns of Arab women, including higher education and family matters. It is part of the document cluster entitled The Ottoman and post-Ottoman Empires in the Eastern Mediterranean, 1860-2015 edited by Beth Baron (CUNY) with Secil Yilmaz (CUNY) and Nova Robinson (Rutgers).
Happy Women's History Month, and happy researching!