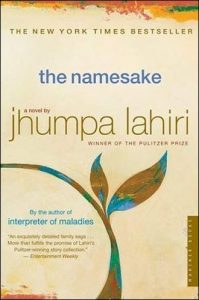 The Namesake by Jhumpa Lahiri
In The Namesake, Jhumpa Lahiri brings her poignant style and acute observations about what it means to be an immigrant, and what it means to be part of a family, to the cross-cultural, multigenerational story of the Ganguli family.
It is 1967 when Ashoke Ganguli and his wife, Ashima, newlyweds in a traditional arranged marriage, arrive in Boston. Ashoke is there to pursue a degree in engineering and to follow the directive of a man whom he met briefly on a tragic train trip: "Pack a pillow and a blanket and see as much of the world as you can." Ashima, meanwhile, pines for the family and the life she's left behind in Calcutta.
When their son is born, the task of naming him betrays the conflicts and confusions the Gangulis encounter in building a family across continents. Intent on respecting old ways, Ashima and Ashoke rely on a letter from India bearing the name chosen by a grandmother. But the letter never arrives, and a name must be given before the baby is released, so he is named Gogol after the Russian author whose writing, the reader learns, played a part in saving Ashoke's life.
Lahiri follows the young Gogol as he stumbles along the first-generation path, strewn with divided cultural loyalties, comic detours through an immigrant community, and wrenching relationships in and outside the home. Spanning three decades and crossing continents, The Namesake is at every moment intimate, as Lahiri swoops in on the perfect detail and emotion to reveal whole worlds in a phrase. -Houghton Mifflin Harcourt description. Recommended by Jackie Zak. Location: https://bit.ly/2WFlGYs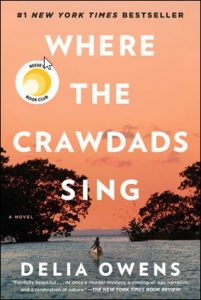 Where the Crawdads Sing by Delia Owens
For years, rumors of the "Marsh Girl" have haunted Barkley Cove, a quiet town on the North Carolina coast. So in late 1969, when handsome Chase Andrews is found dead, the locals immediately suspect Kya Clark, the so-called Marsh Girl. But Kya is not what they say. Sensitive and intelligent, she has survived for years alone in the marsh that she calls home, finding friends in the gulls and lessons in the sand. Then the time comes when she yearns to be touched and loved. When two young men from town become intrigued by her wild beauty, Kya opens herself to a new life–until the unthinkable happens.
Perfect for fans of Barbara Kingsolver and Karen Russell, Where the Crawdads Sing is at once an exquisite ode to the natural world, a heartbreaking coming-of-age story, and a surprising tale of possible murder. Owens reminds us that we are forever shaped by the children we once were, and that we are all subject to the beautiful and violent secrets that nature keeps. -Penguin Random House description. Recommended by Marcia Henry. Location: https://bit.ly/2WHoynC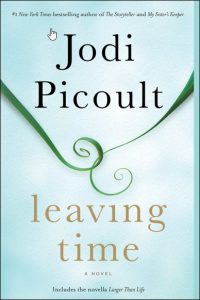 Leaving Time by Jodi Picoult
For more than a decade, Jenna Metcalf has never stopped thinking about her mother, Alice, who mysteriously disappeared in the wake of a tragic accident. Refusing to believe she was abandoned, Jenna searches for her mother regularly online and pores over the pages of Alice's old journals. A scientist who studied grief among elephants, Alice wrote mostly of her research among the animals she loved, yet Jenna hopes the entries will provide a clue to her mother's whereabouts.
Desperate to find the truth, Jenna enlists two unlikely allies in her quest: Serenity Jones, a psychic who rose to fame finding missing persons, only to later doubt her gifts, and Virgil Stanhope, the jaded private detective who'd originally investigated Alice's case along with the strange, possibly linked death of one of her colleagues. As the three work together to uncover what happened to Alice, they realize that in asking hard questions, they'll have to face even harder answers. As Jenna's memories dovetail with the events in her mother's journals, the story races to a mesmerizing finish. -Penguin Random House description. Recommended by Elizabeth Altman. Location: https://bit.ly/2WNxxUA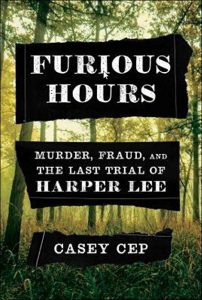 Furious Hours: Murder, Fraud, and the Last Trial of Harper Lee by Casey Cep
Reverend Willie Maxwell was a rural preacher accused of murdering five of his family members for insurance money in the 1970s. With the help of a savvy lawyer, he escaped justice for years until a relative shot him dead at the funeral of his last victim. Despite hundreds of witnesses, Maxwell's murderer was acquitted–thanks to the same attorney who had previously defended the Reverend.
Sitting in the audience during the vigilante's trial was Harper Lee, who had traveled from New York City to her native Alabama with the idea of writing her own In Cold Blood, the true-crime classic she had helped her friend Truman Capote research seventeen years earlier. Lee spent a year in town reporting, and many more years working on her own version of the case.
Now Casey Cep brings this story to life, from the shocking murders to the courtroom drama to the racial politics of the Deep South. At the same time, she offers a deeply moving portrait of one of the country's most beloved writers and her struggle with fame, success, and the mystery of artistic creativity. -Penguin Random House description. Recommended by Jackie Zak and Lynn Lampert. Location: https://bit.ly/2KJKpnf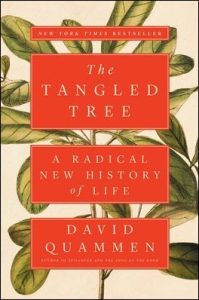 The Tangled Tree: A Radical New History of Life by David Quammen
In the mid-1970s, scientists began using DNA sequences to reexamine the history of all life. Perhaps the most startling discovery to come out of this new field—the study of life's diversity and relatedness at the molecular level—is horizontal gene transfer (HGT), or the movement of genes across species lines. It turns out that HGT has been widespread and important. For instance, we now know that roughly eight percent of the human genome arrived not through traditional inheritance from directly ancestral forms, but sideways by viral infection—a type of HGT.
In The Tangled Tree David Quammen, "one of that rare breed of science journalists who blends exploration with a talent for synthesis and storytelling" (Nature), chronicles these discoveries through the lives of the researchers who made them—such as Carl Woese, the most important little-known biologist of the twentieth century; Lynn Margulis, the notorious maverick whose wild ideas about "mosaic" creatures proved to be true; and Tsutomu Wantanabe, who discovered that the scourge of antibiotic-resistant bacteria is a direct result of horizontal gene transfer, bringing the deep study of genome histories to bear on a global crisis in public health.
"Quammen is no ordinary writer. He is simply astonishing, one of that rare class of writer gifted with verve, ingenuity, humor, guts, and great heart" (Elle). Now, in The Tangled Tree, he explains how molecular studies of evolution have brought startling recognitions about the tangled tree of life—including where we humans fit upon it. Thanks to new technologies such as CRISPR, we now have the ability to alter even our genetic composition—through sideways insertions, as nature has long been doing. The Tangled Tree is a brilliant guide to our transformed understanding of evolution, of life's history, and of our own human nature. -Simon & Schuster description. Recommended by Philip Walsh. Location:  https://bit.ly/2RhdNmc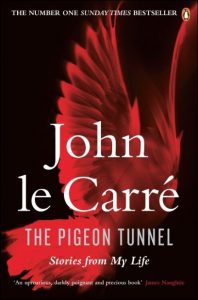 The Pigeon Tunnel: Stories From My Life by John le Carré
From his years serving in British Intelligence during the Cold War, to a career as a writer that took him from war-torn Cambodia to Beirut on the cusp of the 1982 Israeli invasion, to Russia before and after the collapse of the Berlin Wall, John le Carré has always written from the heart of modern times. In this, his first memoir, le Carré is as funny as he is incisive – reading into the events he witnesses the same moral ambiguity with which he imbues his novels. Whether he's writing about the parrot at a Beirut hotel that could perfectly mimic machine gun fire, or visiting Rwanda's museums of the unburied dead in the aftermath of the genocide, or celebrating New Year's Eve with Yasser Arafat, or interviewing a German terrorist in her desert prison in the Negev, or watching Alec Guinness preparing for his role as George Smiley, or describing the female aid worker who inspired the main character in his The Constant Gardener, le Carré endows each happening with vividness and humour, now making us laugh out loud, now inviting us to think anew about events and people we believed we understood. Best of all, le Carré gives us a glimpse of a writer's journey over more than six decades, and his own hunt for the human spark that has given so much life and heart to his fictional characters. -Penguin description. Recommended by Jackie Zak. Location: https://bit.ly/2wTbYlO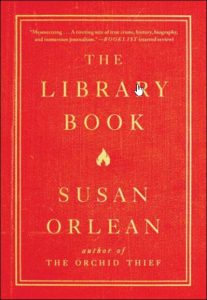 The Library Book by Susan Orlean
On the morning of April 29, 1986, a fire alarm sounded in the Los Angeles Public Library. As the moments passed, the patrons and staff who had been cleared out of the building realized this was not the usual fire alarm. As one fireman recounted, "Once that first stack got going, it was 'Goodbye, Charlie.'" The fire was disastrous: it reached 2000 degrees and burned for more than seven hours. By the time it was extinguished, it had consumed four hundred thousand books and damaged seven hundred thousand more. Investigators descended on the scene, but more than thirty years later, the mystery remains: Did someone purposefully set fire to the library—and if so, who?
Weaving her lifelong love of books and reading into an investigation of the fire, award-winning New Yorker reporter and New York Times bestselling author Susan Orlean delivers a mesmerizing and uniquely compelling book that manages to tell the broader story of libraries and librarians in a way that has never been done before.
In The Library Book, Orlean chronicles the LAPL fire and its aftermath to showcase the larger, crucial role that libraries play in our lives; delves into the evolution of libraries across the country and around the world, from their humble beginnings as a metropolitan charitable initiative to their current status as a cornerstone of national identity; brings each department of the library to vivid life through on-the-ground reporting; studies arson and attempts to burn a copy of a book herself; reflects on her own experiences in libraries; and reexamines the case of Harry Peak, the blond-haired actor long suspected of setting fire to the LAPL more than thirty years ago.
Along the way, Orlean introduces us to an unforgettable cast of characters from libraries past and present—from Mary Foy, who in 1880 at eighteen years old was named the head of the Los Angeles Public Library at a time when men still dominated the role, to Dr. C.J.K. Jones, a pastor, citrus farmer, and polymath known as "The Human Encyclopedia" who roamed the library dispensing information; from Charles Lummis, a wildly eccentric journalist and adventurer who was determined to make the L.A. library one of the best in the world, to the current staff, who do heroic work every day to ensure that their institution remains a vital part of the city it serves.
Brimming with her signature wit, insight, compassion, and talent for deep research, The Library Book is Susan Orlean's thrilling journey through the stacks that reveals how these beloved institutions provide much more than just books—and why they remain an essential part of the heart, mind, and soul of our country. It is also a master journalist's reminder that, perhaps especially in the digital era, they are more necessary than ever. -Simon & Schuster description. Recommended by Coleen Martin. Location: https://bit.ly/2IduITO