Welcome to the CSUN EOP Bridge students who are visiting the Library this summer! The Oviatt Library and CSUN's Educational Opportunity Program work together each year to support Bridge students to successfully navigate the many resources and services available to them at the Library.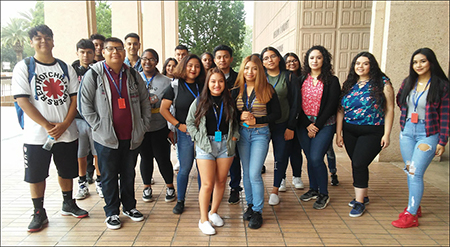 These new students, who will be freshmen in the fall, are attending Library tours in which they learn firsthand about the research assistance they can receive at the Library, in particular, at the reference desk and through our virtual reference services. In addition, many students are interested in learning about the Library's group study rooms that will be useful to them when they collaborate on group projects and as they prepare for midterms and exams.
During the tours, students visit service areas such as the Creative Media Studio (CMS). The CMS is one of the many highlights of the Library tours as students find out about the many specialized computers and software programs, and 3d printing made available to them for use in multi-media projects. Students also visit the Course Reserves Desk and learn all about of the resources the Reserves, Periodicals and Microform (RPM) Department carries including the Textbooks on Reserve Program. Additional services covered within the tours include information about borrowing iPads and laptops, printing, and Interlibrary Loan Services. Of course, one of the highlights of the Library tour includes a visit to the Library's Automated Storage & Retrieval System. During these tours, students are often impressed with the technology and how it is able to house and retrieve approximately 700,000 items within the Oviatt collection upon demand.
Many Bridge students will also visit the Library this summer to attend Library instruction sessions. These Library instruction sessions will support their summer academic coursework and begin to build the foundation of research and information literacy skills that will support them to be successful during their years of study at CSUN and beyond.
We are very pleased to have EOP Bridge students visit our Library this summer, and we look forward to working with them during the upcoming academic year!