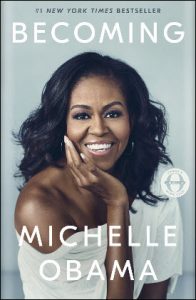 Becoming by Michelle Obama
In her memoir, a work of deep reflection and mesmerizing storytelling, Michelle Obama invites readers into her world, chronicling the experiences that have shaped her—from her childhood on the South Side of Chicago to her years as an executive balancing the demands of motherhood and work, to her time spent at the world's most famous address. With unerring honesty and lively wit, she describes her triumphs and her disappointments, both public and private, telling her full story as she has lived it—in her own words and on her own terms. Warm, wise, and revelatory, Becoming is the deeply personal reckoning of a woman of soul and substance who has steadily defied expectations—and whose story inspires us to do the same. -Crown Publishing description. Recommended by Jackie Zak. Location: at LAPL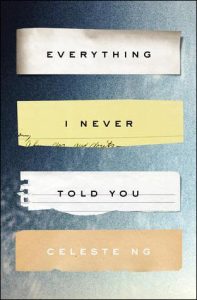 Everything I Never Told You by Celeste Ng
"Lydia is dead. But they don't know this yet." So begins this exquisite novel about a Chinese American family living in 1970s small-town Ohio. Lydia is the favorite child of Marilyn and James Lee, and her parents are determined that she will fulfill the dreams they were unable to pursue. But when Lydia's body is found in the local lake, the delicate balancing act that has been keeping the Lee family together is destroyed, tumbling them into chaos. A profoundly moving story of family, secrets, and longing, Everything I Never Told You is both a gripping page-turner and a sensitive family portrait, uncovering the ways in which mothers and daughters, fathers and sons, and husbands and wives struggle, all their lives, to understand one another. -Penguin Random House description. Recommended by Christina Mayberry. Location: at the Oviatt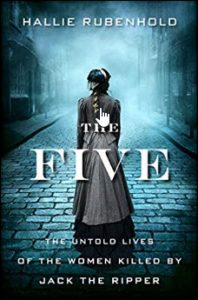 The Five: The Untold Lives of the Women Killed by Jack the Ripper by Hallie Rubenhold
Polly, Annie, Elizabeth, Catherine and Mary-Jane are famous for the same thing, though they never met. They came from Fleet Street, Knightsbridge, Wolverhampton, Sweden and Wales. They wrote ballads, ran coffee houses, lived on country estates, they breathed ink-dust from printing presses and escaped people-traffickers.
What they had in common was the year of their murders: 1888.
Their murderer was never identified, but the name created for him by the press has become far more famous than any of these five women.
Now, in this devastating narrative of five lives, historian Hallie Rubenhold finally sets the record straight, and gives these women back their stories. -Penguin description. Recommended by Jackie Zak. Location: at LAPL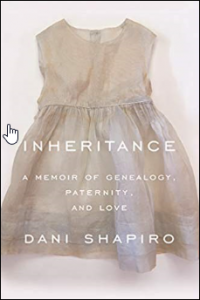 Inheritance: A Memoir of Genealogy, Paternity and Love by Dani Shapiro
What makes us who we are? What combination of memory, history, biology, experience, and that ineffable thing called the soul defines us?In the spring of 2016, through a genealogy website to which she had whimsically submitted her DNA for analysis, Dani Shapiro received the stunning news that her father was not her biological father. She woke up one morning and her entire history–the life she had lived–crumbled beneath her.
Inheritance is a book about secrets–secrets within families, kept out of shame or self-protectiveness; secrets we keep from one another in the name of love. It is the story of a woman's urgent quest to unlock the story of her own identity, a story that has been scrupulously hidden from her for more than fifty years, years she had spent writing brilliantly, and compulsively, on themes of identity and family history. It is a book about the extraordinary moment we live in–a moment in which science and technology have outpaced not only medical ethics but also the capacities of the human heart to contend with the consequences of what we discover. -Penguin Random House description. Recommended by Mark Stover. Location: at LAPL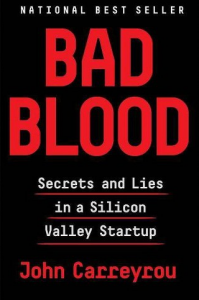 Bad Blood: Secrets and Lies in a Silicon Valley Startup by John Carreyrou
In 2014, Theranos founder and CEO Elizabeth Holmes was widely seen as the female Steve Jobs: a brilliant Stanford dropout whose startup "unicorn" promised to revolutionize the medical industry with a machine that would make blood testing significantly faster and easier. Backed by investors such as Larry Ellison and Tim Draper, Theranos sold shares in a fundraising round that valued the company at more than $9 billion, putting Holmes's worth at an estimated $4.7 billion. There was just one problem: The technology didn't work.A riveting story of the biggest corporate fraud since Enron, a tale of ambition and hubris set amid the bold promises of Silicon Valley. -Penguin Random House description. Recommended by Jackie Zak. Location: at LAPL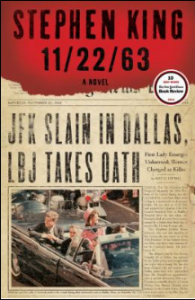 11/22/63 A Novel by Stephen King
ON NOVEMBER 22, 1963, THREE SHOTS RANG OUT IN DALLAS, PRESIDENT KENNEDY DIED, AND THE WORLD CHANGED. WHAT IF YOU COULD CHANGE IT BACK?
In this brilliantly conceived tour de force, Stephen King—who has absorbed the social, political, and popular culture of his generation more imaginatively and thoroughly than any other writer—takes readers on an incredible journey into the past and the possibility of altering it. It begins with Jake Epping, a thirty-five-year-old English teacher in Lisbon Falls, Maine, who makes extra money teaching GED classes. He asks his students to write about an event that changed their lives, and one essay blows him away—a gruesome, harrowing story about the night more than fifty years ago when Harry Dunning's father came home and killed his mother, his sister, and his brother with a sledgehammer. Reading the essay is a watershed moment for Jake, his life—like Harry's, like America's in 1963—turning on a dime. Not much later his friend Al, who owns the local diner, divulges a secret: his storeroom is a portal to the past, a particular day in 1958. And Al enlists Jake to take over the mission that has become his obsession—to prevent the Kennedy assassination. So begins Jake's new life as George Amberson, in a different world of Ike and JFK and Elvis, of big American cars and sock hops and cigarette smoke everywhere. From the dank little city of Derry, Maine (where there's Dunning business to conduct), to the warmhearted small town of Jodie, Texas, where Jake falls dangerously in love, every turn is leading eventually, of course, to a troubled loner named Lee Harvey Oswald and to Dallas, where the past becomes heart-stoppingly suspenseful, and where history might not be history anymore. Time-travel has never been so believable. Or so terrifying. -Simon & Schuster description. Recommended by Coleen Martin. Location: at the Oviatt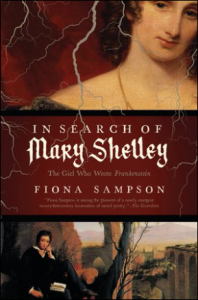 In Search of Mary Shelly: The Girl Who Wrote Frankenstein by Fiona Sampson
We know the facts of Mary Shelley's life in some detail—the death of her mother, Mary Wollstonecraft, within days of her birth; the upbringing in the house of her father, William Godwin, in a house full of radical thinkers, poets, philosophers, and writers; her elopement, at the age of seventeen, with Percy Shelley; the years of peripatetic travel across Europe that followed. But there has been no literary biography written this century, and previous books have ignored the real person—what she actually thought and felt and why she did what she did—despite the fact that Mary and her group of second-generation Romantics were extremely interested in the psychological aspect of life. In this probing narrative, Fiona Sampson pursues Mary Shelley through her turbulent life, much as Victor Frankenstein tracked his monster across the arctic wastes. Sampson has written a book that finally answers the question of how it was that a nineteen-year-old came to write a novel so dark, mysterious, anguished, and psychologically astute that it continues to resonate two centuries later. No previous biographer has ever truly considered this question, let alone answered it. -Pegasus Books description. Recommended by Jackie Zak. Location: at LAPL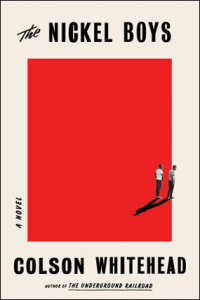 The Nickel Boys: A Novel by Colson Whitehead
As the Civil Rights movement begins to reach the black enclave of Frenchtown in segregated Tallahassee, Elwood Curtis takes the words of Dr. Martin Luther King to heart: He is "as good as anyone." Abandoned by his parents, but kept on the straight and narrow by his grandmother, Elwood is about to enroll in the local black college. But for a black boy in the Jim Crow South of the early 1960s, one innocent mistake is enough to destroy the future. Elwood is sentenced to a juvenile reformatory called the Nickel Academy, whose mission statement says it provides "physical, intellectual and moral training" so the delinquent boys in their charge can become "honorable and honest men."In reality, the Nickel Academy is a grotesque chamber of horrors where the sadistic staff beats and sexually abuses the students, corrupt officials and locals steal food and supplies, and any boy who resists is likely to disappear "out back." Stunned to find himself in such a vicious environment, Elwood tries to hold onto Dr. King's ringing assertion "Throw us in jail and we will still love you." His friend Turner thinks Elwood is worse than naive, that the world is crooked, and that the only way to survive is to scheme and avoid trouble.The tension between Elwood's ideals and Turner's skepticism leads to a decision whose repercussions will echo down the decades. Formed in the crucible of the evils Jim Crow wrought, the boys' fates will be determined by what they endured at the Nickel Academy. Based on the real story of a reform school in Florida that operated for one hundred and eleven years and warped the lives of thousands of children, The Nickel Boys is a devastating, driven narrative that showcases a great American novelist writing at the height of his powers. -Penguin Random House description. Recommended by Lynn Lampert. Location: at LAPL