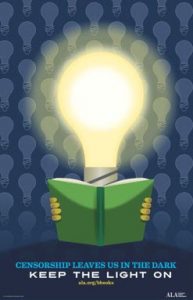 Hello Matadors! Banned Books Week is approaching and gives us all the opportunity to celebrate our freedom to choose what we read. The Oviatt Library is honoring this freedom by offering several activities.
Through a collaboration with the CSUN Journalism Department, the Library is hosting a Banned Books Readout on Thursday, September 19 from 1 p.m.-3 p.m. in the Oviatt Library Ferman Presentation Room. Author Beth Lapides, will be reading from her book Did I Wake You? Haiku For Modern Living, and will speak on the topics of freedom of expression and censorship. CSUN Professor Elizabeth Blakey, who is a First Amendment scholar will also speak. Finally, there will be journalism students reading passages from challenged or banned books. Pizza will be served and everyone is welcome. More information can be found at the RSVP page.
In addition to the Readout, there also will be a Banned Books display in the Learning Commons beginning the week of September 23. All of the books within the display have been challenged or banned in some manner. Each book has been wrapped, (for suspense!) and at least one description has been given as to why the book was banned or challenged. Come find out about the various reasons these books have been censored in different places around the country. All of these challenged or banned books can be checked out at the Guest Services Desk in our Library lobby. But no peeking before they are checked out and taken home to read!
Finally, on Monday September 23, a LAPL librarian will be in the Library lobby from 11:30 a.m.-1 p.m. to assist with obtaining LAPL cards and to provide information about popular LAPL programs. Please stop by to say hello and to find out what fun things are happening at LAPL.
Happy Banned Books Week to all and we hope you enjoy your reading!