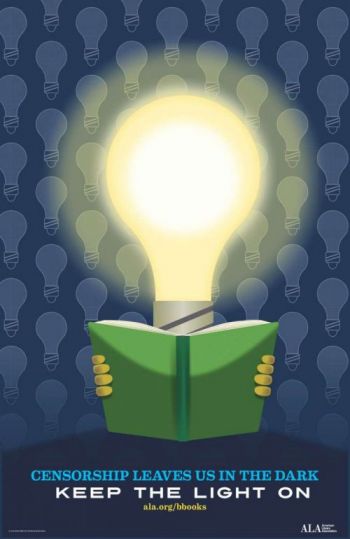 Hello Matadors!
Banned Books Week celebrates our freedom to choose what we read and draws attention to the harms of censorship.
Banned Books Readout with Pizza
September 19, 2019 - 1:00pm to 3:00pm
Jack & Florence Ferman Presentation Room
The University Library and Department of Journalism present Banned Books Readout with Pizza.
CSUN students will give dramatic readings.
Guest author Beth Lapides will be reading from her book Did I Wake You? Haiku For Modern Living, and will speak on the topics of freedom of expression and censorship. Copies will be available for purchase.
Elizabeth Blakey, J.D., Ph.D., Associate Professor, Dept. of Journalism, and First Amendment scholar will speak on the topic of "An Anthropology of Censored Comedic Books."
RSVP for the event at: https://library.csun.edu/events/banned-books-readout-2019
Banned Books Display
Starts September 23, 2019 until all the banned books are checked out.
Main Floor - Learning Commons
There will be a Banned Books display in the Learning Commons, Main Floor of the Library.
All of the books within the display have been banned in some manner. Each book has been wrapped, (for suspense!) and at least one description has been given as to why the book was banned.
Come take a look at the various reasons these books have been censored in different places around the country. All of these banned books can be checked out at the Guest Services Desk in our Library lobby. But no peeking before they are checked out and taken home to read!
Los Angeles Public Library Information Booth
September 23, 2019 - 11:30am to 1:00pm
Main Floor - Lobby
This event has moved from the 25th to the 23rd
A LAPL (Los Angeles Public Library) librarian will be in the Library lobby from 11:30 a.m.-1 p.m. to assist with obtaining LAPL cards and to provide information about popular LAPL programs.
The Los Angeles Public Library provides free and easy access to information, ideas, books and technology that enrich, educate and empower every individual in our city's diverse communities.
Visitor Information
Parking is $8.00. For more information about parking please see Visitor Information.
To arrange assistance for persons with disabilities, including interpreters for deaf and hard of hearing persons, please call (818) 677-2638 in advance of the event.