Hello Matadors! If you are looking for good books to read while at home, here are some titles we have been reading thus far. All of these books are available as e-titles through LAPL. Visit e-Card Registration if you do not yet have a LAPL card. Happy Reading!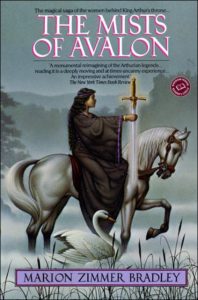 The Mists of Avalon by Marion Zimmer Bradley
In The Mists of Avalon, we see the tumult and adventures of Camelot's court through the eyes of the women who bolstered the king's rise and schemed for his fall. From their childhoods through the ultimate fulfillment of their destinies, we follow these women and the diverse cast of characters that surrounds them as the great Arthurian epic unfolds stunningly before us. As Morgaine and Gwenhwyfar struggle for control over the fate of Arthur's kingdom, as the Knights of the Round Table take on their infamous quest, as Merlin and Viviane wield their magics for the future of Old Britain, the Isle of Avalon slips further into the impenetrable mists of memory, until the fissure between old and new worlds' and old and new religions' claims its most famous victim. Description by Penguin Random House. Recommended by Laura Clary. Access: https://bit.ly/2TKYMv9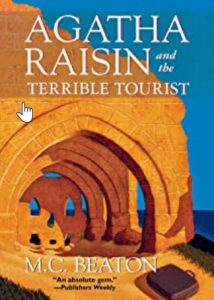 Agatha Raisin and the Terrible Tourist by M.C. Beaton
Agatha Raisin and the Terrible Tourist continues the tradition in M. C. Beaton's Agatha Raisin mystery series—now a show on Acorn TV and public television.
Agatha Raisin's marriage was put off when her ex-husband showed up, unfortunately alive. Fortunately, he was murdered and Agatha solved the crime. Now she is off to Cyprus to track down her ex-fiance. Instead of enjoying their planned honeymoon, however, they witness the murder of an obnoxious tourist. Two sets of terrible tourists surround the unhappy couple, arousing Agatha's suspicions. And, much to James' chagrin, she won't rest until she finds the killer. Unfortunately, it seems the killer also won't rest until Agatha is out of the picture. Agatha is forced to track down the murderer, try to rekindle her romance with James, and fend off a suave baronet, all while coping with the fact that it's always bathing suit season in Cyprus. Description by Macmillan Publishers. Recommended by Lauren Mueller. Access: https://bit.ly/2yDwN9z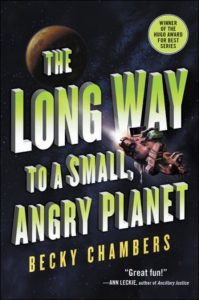 The Long Way to a Small Angry Planet by Becky Chambers
Hugo Award winner for Best Series.
Follow a motley crew on an exciting journey through space—and one adventurous young explorer who discovers the meaning of family in the far reaches of the universe—in this light-hearted debut space opera from a rising sci-fi star.
Rosemary Harper doesn't expect much when she joins the crew of the aging Wayfarer. While the patched-up ship has seen better days, it offers her a bed, a chance to explore the far-off corners of the galaxy, and most importantly, some distance from her past. An introspective young woman who learned early to keep to herself, she's never met anyone remotely like the ship's diverse crew, including Sissix, the exotic reptilian pilot, chatty engineers Kizzy and Jenks who keep the ship running, and Ashby, their noble captain.
Life aboard the Wayfarer is chaotic and crazy—exactly what Rosemary wants. It's also about to get extremely dangerous when the crew is offered the job of a lifetime. Tunneling wormholes through space to a distant planet is definitely lucrative and will keep them comfortable for years. But risking her life wasn't part of the plan. In the far reaches of deep space, the tiny Wayfarer crew will confront a host of unexpected mishaps and thrilling adventures that force them to depend on each other. To survive, Rosemary's got to learn how to rely on this assortment of oddballs—an experience that teaches her about love and trust, and that having a family isn't necessarily the worst thing in the universe. Description by HarperCollins Publishers. Recommended by Laura Wimberley. Access: https://bit.ly/2ZJppEQ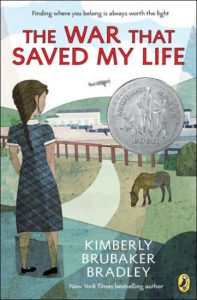 The War that Saved My Life by Kimberly Brubaker Bradley
Newbery Honor book and winner of the 2016 Schneider Family Book Award.
This #1 New York Times bestseller is a moving story of triumph against all odds set during World War II.
Ten-year-old Ada has never left her one-room apartment. Her mother is too humiliated by Ada's twisted foot to let her outside. So when her little brother Jamie is shipped out of London to escape the war, Ada doesn't waste a minute—she sneaks out to join him.
So begins a new adventure for Ada, and for Susan Smith, the woman who is forced to take the two kids in. As Ada teaches herself to ride a pony, learns to read, and watches for German spies, she begins to trust Susan—and Susan begins to love Ada and Jamie. But in the end, will their bond be enough to hold them together through wartime? Or will Ada and her brother fall back into the cruel hands of their mother? Description by Penguin Random House. Recommended by Nancy Davidson. Access: https://bit.ly/3dae5oO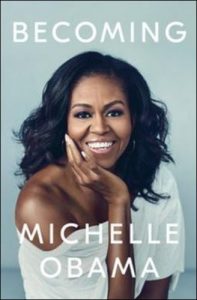 Becoming by Michelle Obama
In a life filled with meaning and accomplishment, Michelle Obama has emerged as one of the most iconic and compelling women of our era. As First Lady of the United States of America—the first African American to serve in that role—she helped create the most welcoming and inclusive White House in history, while also establishing herself as a powerful advocate for women and girls in the U.S. and around the world, dramatically changing the ways that families pursue healthier and more active lives, and standing with her husband as he led America through some of its most harrowing moments. Along the way, she showed us a few dance moves, crushed Carpool Karaoke, and raised two down-to-earth daughters under an unforgiving media glare.
In her memoir, a work of deep reflection and mesmerizing storytelling, Michelle Obama invites readers into her world, chronicling the experiences that have shaped her—from her childhood on the South Side of Chicago to her years as an executive balancing the demands of motherhood and work, to her time spent at the world's most famous address. With unerring honesty and lively wit, she describes her triumphs and her disappointments, both public and private, telling her full story as she has lived it—in her own words and on her own terms. Warm, wise, and revelatory, Becoming is the deeply personal reckoning of a woman of soul and substance who has steadily defied expectations—and whose story inspires us to do the same. Description by Crown Publishing. Recommended by Christina Mayberry. Access: https://bit.ly/36CARna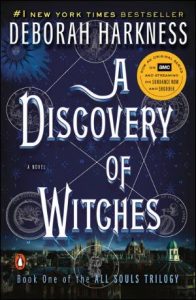 Discovery of Witches by Deborah Harkness
Deborah Harkness's debut, A Discovery of Witches, brought her into the spotlight and galvanized fans around the world. In this tale of passion and obsession, Diana Bishop, a young scholar and a descendant of witches, discovers a long-lost and enchanted alchemical manuscript, Ashmole 782, deep in Oxford's Bodleian Library. Its reappearance summons a fantastical underworld, which she navigates with her leading man, vampire geneticist Matthew Clairmont.
Harkness has created a universe to rival those of Anne Rice, Diana Gabaldon, and Elizabeth Kostova, and she adds a scholar's depth to this riveting tale of magic and suspense. The story continues in book two, Shadow of Night, and concludes with The Book of Life. The story now comes alive in a TV series, starring Teresa Palmer (I Am Number Four, Hacksaw Ridge) and Matthew Goode (Match Point, The Imitation Game). Description by Penguin Random House. Recommended by Lauren Mueller. Access: https://bit.ly/3gt4D26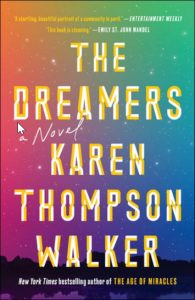 The Dreamers by Karen Thompson Walker
One night in an isolated college town in the hills of Southern California, a first-year student stumbles into her dorm room, falls asleep—and doesn't wake up. She sleeps through the morning, into the evening. Her roommate, Mei, cannot rouse her. Neither can the paramedics, nor the perplexed doctors at the hospital. When a second girl falls asleep, and then a third, Mei finds herself thrust together with an eccentric classmate as panic takes hold of the college and spreads to the town. A young couple tries to protect their newborn baby as the once-quiet streets descend into chaos. Two sisters turn to each other for comfort as their survivalist father prepares for disaster.
Those affected by the illness, doctors discover, are displaying unusual levels of brain activity, higher than has ever been recorded before. They are dreaming heightened dreams—but of what?
Written in luminous prose, The Dreamers is a breathtaking and beautiful novel, startling and provocative, about the possibilities contained within a human life—if only we are awakened to them. Description by Penguin Random House. Recommended by Lynn Lampert. Access: https://bit.ly/3gmF16S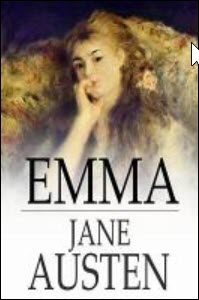 Emma by Jane Austen
Now a major motion picture starring Anya Taylor-Joy. Beautiful, clever, rich—and single—Emma Woodhouse is perfectly content with her life and sees no need for either love or marriage. Nothing, however, delights her more than interfering in the romantic lives of others. But when she ignores the warnings of her good friend Mr. Knightley and attempts to arrange a suitable match for her protégée, Harriet Smith, her carefully laid plans soon unravel and have consequences that she never expected. With its imperfect but charming heroine and its witty and subtle exploration of relationships, Emma is often seen as Jane Austen's most flawless work. Description by Penguin Random House. – Recommended by Nancy Young and Laura Clary. Access: https://bit.ly/3ehOjiO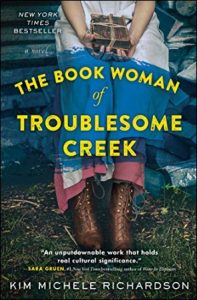 The Book Woman of Troublesome Creek by Kim Michele Richardson
In 1936, Bluet is the last of the Kentucky Blues. In the dusty Appalachian hills of Troublesome Creek, nineteen and blue-skinned, Bluet has used up her last chance for "respectability" and a marriage bed. Instead, she joins the historical Pack Horse Library Project of Kentucky and becomes a librarian, riding up treacherous mountains on a mule to deliver books and other reading material to the poor hill communities of Eastern Kentucky.
Along her dangerous route, Bluet confronts many who are distrustful of her blue skin. Not everyone is so keen on Bluet's family or the Library Project, and the impoverished Kentuckians are quick to blame a Blue for any trouble in their small town.
Inspired by the true and historical blue-skinned people of Kentucky and the dedicated Kentucky Pack Horse Library Project, The Book Woman of Troublesome Creek provides an authentic Appalachian voice to a story of hope, heartbreak and raw courage and shows one woman's strength, despite it all, to push beyond the dark woods of Troublesome Creek. Description by HarperCollins Canada. Recommended by Marcia Henry. Access: https://bit.ly/2X6abI4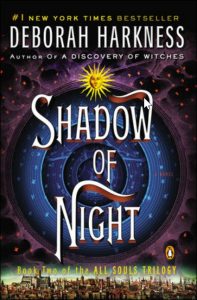 Shadow of Night by Deborah Harkness
Shadow of Night is the #1 New York Times bestselling sequel to A Discovery of Witches, of the All Souls Trilogy. A Discovery of Witches introduced reluctant witch Diana Bishop, vampire geneticist Matthew Clairmont, and the battle for a lost, enchanted manuscript known as Ashmole 782. Picking up from A Discovery of Witches' cliffhanger ending, Shadow of Night takes Diana and Matthew on a trip through time to Elizabethan London, where they are plunged into a world of spies, magic, and a coterie of Matthew's old friends, the School of Night. As the search for Ashmole 782 deepens and Diana seeks out a witch to tutor her in magic, the net of Matthew's past tightens around them, and they embark on a very different—and vastly more dangerous—journey. Description by Penguin Random House. Recommended by Lauren Mueller. Access: https://bit.ly/2yCithp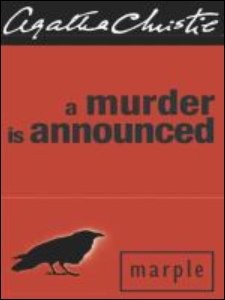 A Murder is Announced by Agatha Christie
A Miss Marple mystery, A Murder is Announced in a small-town newspaper advertisement—and Miss Marple must unravel the fiendish puzzle when a crime does indeed occur.
The villagers of Chipping Cleghorn are agog with curiosity when the Gazette advertises "A murder is announced and will take place on Friday, October 29th, at Little Paddocks at 6.30 p.m."
A childish practical joke? Or a spiteful hoax? Unable to resist the mysterious invitation, the locals arrive at Little Paddocks at the appointed time when, without warning, the lights go out and a gun is fired. When they come back on, a gruesome scene is revealed. An impossible crime? Only Miss Marple can unravel it. Description by HarperCollins Publishers. Recommended by Laura Clary. Access: https://bit.ly/3gsbjgQ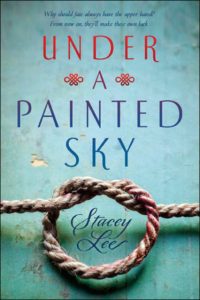 Under the Painted Sky by Stacey Lee
Winner of the SCBWI Crystal Kite Award, an America Library Association (ALA) Best Fiction for Young Adults Pick, and an Amelia Bloomer Book
All Samantha wanted was to move back to New York and pursue her music, which was difficult enough being a Chinese girl in Missouri, 1849. Then her fate takes a turn for the worse after a tragic accident leaves her with nothing and she breaks the law in self-defense. With help from Annamae, a runaway slave she met at the scene of her crime, the two flee town for the unknown frontier.
But life on the Oregon Trail is unsafe for two girls. Disguised as Sammy and Andy, two boys heading for the California gold rush, each search for a link to their past and struggle to avoid any unwanted attention. Until they merge paths with a band of cowboys turned allies, and Samantha can't stop herself from falling for one. But the law is closing in on them and new setbacks come each day, and the girls will quickly learn there are not many places one can hide on the open trail. Description by Penguin Random House. Recommended by Nancy Davidson. Access: https://bit.ly/2XEoC5l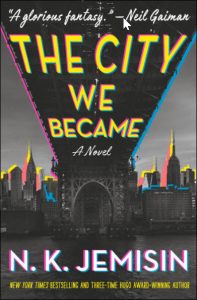 The City We Became by N.K. Jemisin
Three-time Hugo Award-winning and New York Times bestselling author N.K. Jemisin crafts her most incredible novel yet, a story of culture, identity, magic, and myths in contemporary New York City.
In Manhattan, a young grad student gets off the train and realizes he doesn't remember who he is, where he's from, or even his own name. But he can sense the beating heart of the city, see its history, and feel its power.
In the Bronx, a Lenape gallery director discovers strange graffiti scattered throughout the city, so beautiful and powerful it's as if the paint is literally calling to her.
In Brooklyn, a politician and mother finds she can hear the songs of her city, pulsing to the beat of her Louboutin heels.
And they're not the only ones.
Every great city has a soul. Some are ancient as myths, and others are as new and destructive as children. New York? She's got six. Description by Hachette Book Group. Recommended by Laura Wimberley. Access: https://bit.ly/2yE6Oi9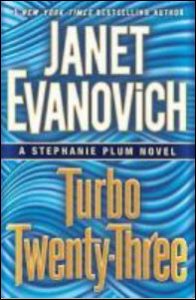 Turbo Twenty-Three by Janet Evanovich
In the heart of Trenton, N.J., a killer is out to make sure someone gets his just desserts. Larry Virgil skipped out on his latest court date after he was arrested for hijacking an eighteen-wheeler full of premium bourbon. Fortunately for bounty hunter Stephanie Plum, Larry is just stupid enough to attempt almost the exact same crime again. Only this time he flees the scene, leaving behind a freezer truck loaded with Bogart ice cream and a dead body—frozen solid and covered in chocolate and chopped pecans.
As fate would have it, Stephanie's mentor and occasional employer, Ranger, needs her to go undercover at the Bogart factory to find out who's putting their employees on ice and sabotaging the business. It's going to be hard for Stephanie to keep her hands off all that ice cream, and even harder for her to keep her hands off Ranger. It's also going to be hard to explain to Trenton's hottest cop, Joe Morelli, why she is spending late nights with Ranger, late nights with Lula and Randy Briggs—who are naked and afraid—and late nights keeping tabs on Grandma Mazur and her new fella. Stephanie Plum has a lot on her plate, but for a girl who claims to have "virtually no marketable skills," these are the kinds of sweet assignments she does best. Description by Penguin Random House. Recommended by Lauren Mueller. Access: https://bit.ly/3euIdf7