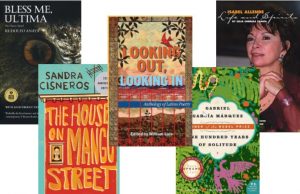 Hello Matadors! The next four weeks provide us with the opportunity to celebrate the rich history of the Latinx community with Celebrando Cultura. Mid-September to mid-October was chosen to spotlight Latinx contributions and achievements because it is the anniversary of independence for many Latin American countries. See National Hispanic American Heritage Month.
For this year's Celebrando Cultura we offer a virtual book display. The titles reflect inspirational stories of the Latinx community as well as highlight many meaningful contributions that have impacted our communities and culture. All of the titles in the display are available virtually through the University Library or through LAPL. Don't have a LAPL ecard? Visit LAPL to learn how to easily obtain an ecard online.
We hope you enjoy and connect with the myriad of stories presented in the collection of books that celebrate the Latinx community!