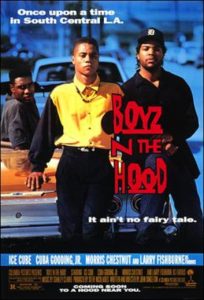 Hello Matadors!
Here is your chance to watch the iconic John Singleton film Boyz N The Hood and enter a drawing for a chance to win a $50 gift card! Check out the ways you can stream the film and participate in a Watch Party. Released in the early 1990s, Boyz N The Hood is a classic that has been praised for its acting, writing, and directing, and it provides an opportunity to ask how the issues represented in the film are relevant today.
Highly acclaimed, Boyz N The Hood has received many nominations and awards. John Singleton was the first African American filmmaker, at the age of 24, and the youngest person ever to be nominated for a Best Director Academy Award for his work. It is a key film within the Los Angeles: On Film and On Record exhibit. If you haven't seen the film, it's one you won't want to miss!
See our Watch Party Guide: Boys N The Hood for more information on how to watch the film and enter for a chance to win a $50 gift card!