Hello Matadors! Summer is here and that means the University Library has Summer reading picks for you! Check out our employee recommendations! You are bound to discover many interesting reads that include fiction, non-fiction, and award-winning titles. All of the books are available through the University Library, LAPL, or LA County Library. Happy Summer Reading!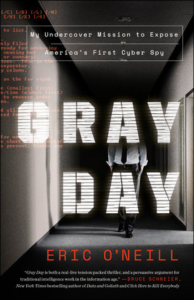 Gray Day: My Undercover Mission to Expose America's First Cyber Spy
by Eric O'Neill
Eric O'Neill was only twenty-six when he was tapped for the case of a lifetime: a one-on-one undercover investigation of the FBI's top target, a man suspected of spying for the Russians for nearly two decades, giving up nuclear secrets, compromising intelligence, and betraying US assets. With zero training in face-to-face investigation, O'Neill found himself in a windowless, high-security office in the newly formed Information Assurance Section, tasked officially with helping the FBI secure its outdated computer system against hackers and spies—and unofficially with collecting evidence against his new boss, Robert Hanssen, an exacting and rage-prone veteran agent with a fondness for handguns. In the months that follow, O'Neill's self-esteem and young marriage unravel under the pressure of life in Room 9930, and he questions the very purpose of his mission. But as Hanssen outmaneuvers an intelligence community struggling to keep up with the new reality of cybersecurity, he also teaches O'Neill the game of spycraft. The student will just have to learn to outplay his teacher if he wants to win.
A tension-packed stew of power, paranoia, and psychological manipulation, Gray Day is also a cautionary tale of how the United States allowed Russia to become dominant in cyberespionage—and how we might begin to catch up. Description by Penguin Random House. Recommended by Jackie Zak. Access: LAPL, and LA County Library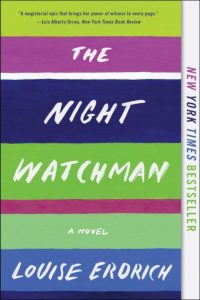 The Night Watchmen
by Louise Erdrich
Winner of the 2021 Pulitzer Prize for Fiction and New York Times Bestseller
Thomas Wazhashk is the night watchman at the jewel bearing plant, the first factory located near the Turtle Mountain Reservation in rural North Dakota. He is also a Chippewa Council member who is trying to understand the consequences of a new "emancipation" bill on its way to the floor of the United States Congress. It is 1953 and he and the other council members know the bill isn't about freedom; Congress is fed up with Indians. The bill is a "termination" that threatens the rights of Native Americans to their land and their very identity. How can the government abandon treaties made in good faith with Native Americans "for as long as the grasses shall grow, and the rivers run"? Since graduating high school, Pixie Paranteau has insisted that everyone call her Patrice. Unlike most of the girls on the reservation, Patrice, the class valedictorian, has no desire to wear herself down with a husband and kids. She makes jewel bearings at the plant, a job that barely pays her enough to support her mother and brother. Patrice's shameful alcoholic father returns home sporadically to terrorize his wife and children and bully her for money.
But Patrice needs every penny to follow her beloved older sister, Vera, who moved to the big city of Minneapolis. Vera may have disappeared; she hasn't been in touch in months, and is rumored to have had a baby. Determined to find Vera and her child, Patrice makes a fateful trip to Minnesota that introduces her to unexpected forms of exploitation and violence, and endangers her life.
Thomas and Patrice live in this impoverished reservation community along with young Chippewa boxer Wood Mountain and his mother Juggie Blue, her niece and Patrice's best friend Valentine, and Stack Barnes, the white high school math teacher and boxing coach who is hopelessly in love with Patrice.
In The Night Watchman, Louise Erdrich creates a fictional world populated with memorable characters who are forced to grapple with the worst and best impulses of human nature. Illuminating the loves and lives, the desires and ambitions of these characters with compassion, wit, and intelligence, The Night Watchman is a majestic work of fiction from this revered cultural treasure. Description by Harper Collins Publishers. Recommended by Gina Flores. Access: University Library, LAPL, and LA County Library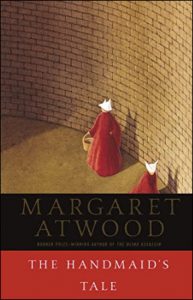 The Handmaid's Tale
by Margaret Atwood
Offred is a Handmaid in the Republic of Gilead, serving in the household of the enigmatic Commander and his bitter wife. She may go out once a day to markets whose signs are now pictures because women are not allowed to read. She must pray that the Commander makes her pregnant, for in a time of declining birthrates her value lies in her fertility, and failure means exile to the dangerously polluted Colonies. Offred can remember a time when she lived with her husband and daughter and had a job, before she lost even her own name. Now she navigates the intimate secrets of those who control her every move, risking her life in breaking the rules.
Like Aldous Huxley's Brave New World and George Orwell's Nineteen Eighty-Four, The Handmaid's Tale has endured not only as a literary landmark but as a warning of a possible future that is still chillingly relevant. Description by Penguin Random House. Recommended by April Feldman.  Access: University Library, LAPL, and LA County Library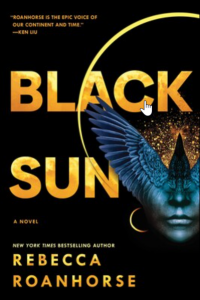 Black Sun
by Rebecca Roanhorse
Nominated for the 2021 Hugo Awards and the 2020 Nebula Awards for best novel
A god will return
When the earth and sky converge
Under the black sun
In the holy city of Tova, the winter solstice is usually a time for celebration and renewal, but this year it coincides with a solar eclipse, a rare celestial event proscribed by the Sun Priest as an unbalancing of the world.
Meanwhile, a ship launches from a distant city bound for Tova and set to arrive on the solstice. The captain of the ship, Xiala, is a disgraced Teek whose song can calm the waters around her as easily as it can warp a man's mind. Her ship carries one passenger. Described as harmless, the passenger, Serapio, is a young man, blind, scarred, and cloaked in destiny. As Xiala well knows, when a man is described as harmless, he usually ends up being a villain.
Crafted with unforgettable characters, Rebecca Roanhorse has created an epic adventure exploring the decadence of power amidst the weight of history and the struggle of individuals swimming against the confines of society and their broken pasts in the most original series debut of the decade. Description by Simon & Schuster. Recommended by Laura Wimberley. Access: LAPL, and LA County Library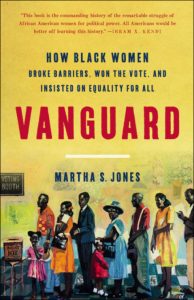 Vanguard: How Black Women Broke Barriers, Won the Vote, and Insisted on Equality for All
by Martha S. Jones
In the standard story, the suffrage crusade began in Seneca Falls in 1848 and ended with the ratification of the Nineteenth Amendment in 1920. But this overwhelmingly white women's movement did not win the vote for most black women. Securing their rights required a movement of their own.
In Vanguard, acclaimed historian Martha S. Jones offers a new history of African American women's political lives in America. She recounts how they defied both racism and sexism to fight for the ballot, and how they wielded political power to secure the equality and dignity of all persons. From the earliest days of the republic to the passage of the 1965 Voting Rights Act and beyond, Jones excavates the lives and work of black women—Maria Stewart, Frances Ellen Watkins Harper, Fannie Lou Hamer, and more—who were the vanguard of women's rights, calling on America to realize its best ideals. Description by Basic Books Imprints. Recommended by Jackie Zak. Access: LAPL, and LA County Library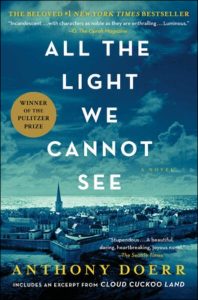 All the Light We Cannot See
by Anthony Doerr
Winner of the Pulitzer Prize; A New York Times Book Review Top Ten Book; A National Book Award finalist
Marie-Laure lives in Paris near the Museum of Natural History, where her father works. When she is twelve, the Nazis occupy Paris and father and daughter flee to the walled citadel of Saint-Malo, where Marie-Laure's reclusive great uncle lives in a tall house by the sea. With them they carry what might be the museum's most valuable and dangerous jewel.
In a mining town in Germany, Werner Pfennig, an orphan, grows up with his younger sister, enchanted by a crude radio they find that brings them news and stories from places they have never seen or imagined. Werner becomes an expert at building and fixing these crucial new instruments and is enlisted to use his talent to track down the resistance. Deftly interweaving the lives of Marie-Laure and Werner, Doerr illuminates the ways, against all odds, people try to be good to one another. Description by Simon & Schuster. Recommended by Allan Gilbert. Access: University Library, LAPL, and LA County Library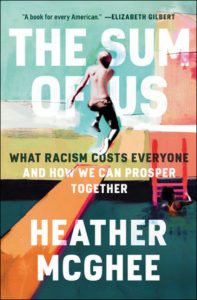 The Sum of Us: What Racism Costs Everyone and How We Can Prosper Together
by Heather C. McGhee
New York Times Bestseller
Heather McGhee's specialty is the American economy—and the mystery of why it so often fails the American public. From the financial crisis to rising student debt to collapsing public infrastructure, she found a common root problem: racism. But not just in the most obvious indignities for people of color. Racism has costs for white people, too. It is the common denominator of our most vexing public problems, the core dysfunction of our democracy and constitutive of the spiritual and moral crises that grip us all. But how did this happen? And is there a way out?
McGhee embarks on a deeply personal journey across the country from Maine to Mississippi to California, tallying what we lose when we buy into the zero-sum paradigm—the idea that progress for some of us must come at the expense of others. Along the way, she meets white people who confide in her about losing their homes, their dreams, and their shot at better jobs to the toxic mix of American racism and greed. This is the story of how public goods in this country—from parks and pools to functioning schools—have become private luxuries; of how unions collapsed, wages stagnated, and inequality increased; and of how this country, unique among the world's advanced economies, has thwarted universal healthcare.
But in unlikely places of worship and work, McGhee finds proof of what she calls the Solidarity Dividend: gains that come when people come together across race, to accomplish what we simply can't do on our own.
The Sum of Us is a brilliant analysis of how we arrived here: divided and self-destructing, materially rich but spiritually starved and vastly unequal. McGhee marshals economic and sociological research to paint an irrefutable story of racism's costs, but at the heart of the book are the humble stories of people yearning to be part of a better America, including white supremacy's collateral victims: white people themselves. With startling empathy, this heartfelt message from a Black woman to a multiracial America leaves us with a new vision for a future in which we finally realize that life can be more than a zero-sum game. Description by Simon & Schuster. Recommended by Jackie Zak. Access: University Library, LAPL, and LA County Library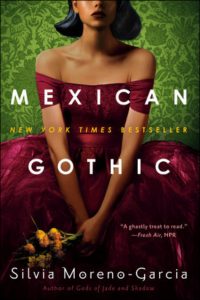 Mexican Gothic
by Silvia Moreno-Garcia 
New York Times Bestseller
After receiving a frantic letter from her newly-wed cousin begging for someone to save her from a mysterious doom, Noemí Taboada heads to High Place, a distant house in the Mexican countryside. She's not sure what she will find—her cousin's husband, a handsome Englishman, is a stranger, and Noemí knows little about the region.
Noemí is also an unlikely rescuer: She's a glamorous debutante, and her chic gowns and perfect red lipstick are more suited for cocktail parties than amateur sleuthing. But she's also tough and smart, with an indomitable will, and she is not afraid: Not of her cousin's new husband, who is both menacing and alluring; not of his father, the ancient patriarch who seems to be fascinated by Noemí; and not even of the house itself, which begins to invade Noemi's dreams with visions of blood and doom.
Her only ally in this inhospitable abode is the family's youngest son. Shy and gentle, he seems to want to help Noemí, but might also be hiding dark knowledge of his family's past. For there are many secrets behind the walls of High Place. The family's once colossal wealth and faded mining empire kept them from prying eyes, but as Noemí digs deeper she unearths stories of violence and madness.
And Noemí, mesmerized by the terrifying yet seductive world of High Place, may soon find it impossible to ever leave this enigmatic house behind. Description by Penguin Random House. Recommended by Jamie Johnson. Access: LAPL, and LA County Library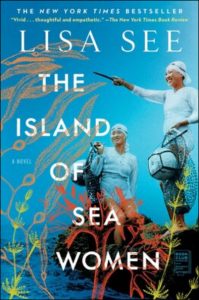 The Island of Sea Women: A Novel
by Lisa See
New York Times Bestseller
Mi-ja and Young-sook, two girls living on the Korean island of Jeju, are best friends who come from very different backgrounds. When they are old enough, they begin working in the sea with their village's all-female diving collective, led by Young-sook's mother. As the girls take up their positions as baby divers, they know they are beginning a life of excitement and responsibility—but also danger.
Despite their love for each other, Mi-ja and Young-sook find it impossible to ignore their differences. The Island of Sea Women takes place over many decades, beginning during a period of Japanese colonialism in the 1930s and 1940s, followed by World War II, the Korean War, through the era of cell phones and wet suits for the women divers. Throughout this time, the residents of Jeju find themselves caught between warring empires. Mi-ja is the daughter of a Japanese collaborator. Young-sook was born into a long line of haenyeo and will inherit her mother's position leading the divers in their village. Little do the two friends know that forces outside their control will push their friendship to the breaking point. Description by Simon & Schuster. Recommended by Jackie Zak. Access: University Library, LAPL, and LA County Library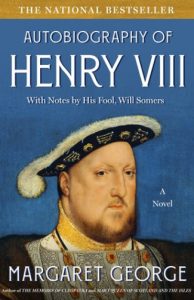 The Autobiography of Henry VIII: With Notes by His Fool, Will Somers: A Novel
by Margaret George
Much has been written about the mighty, egotistical Henry VIII: the man who dismantled the Church because it would not grant him the divorce he wanted; who married six women and beheaded two of them; who executed his friend Thomas More; who sacked the monasteries; who longed for a son and neglected his daughters, Mary and Elizabeth; who finally grew fat, disease-ridden, dissolute.
Now, in her magnificent work of storytelling and imagination Margaret George bring us Henry VIII's story as he himself might have told it, in memoirs interspersed with irreverent comments from his jester and confident, Will Somers. Brilliantly combining history, wit, dramatic narrative, and an extraordinary grasp of the pleasures and perils of power, this monumental novel shows us Henry the man more vividly than he has ever been seen before. Description by Macmillan Publishers. Recommended by April Feldman. Access: LAPL, and LA County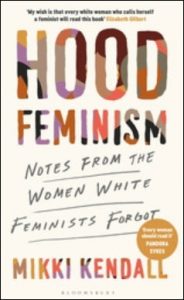 Hood Feminism
by Mikki Kendall
All too often the focus of mainstream feminism is not on basic survival for the many, but on increasing privilege for the few.
Meeting basic needs is a feminist issue. Food insecurity, the living wage and access to education are feminist issues. The fight against racism, ableism and transmisogyny are all feminist issues.
White feminists often fail to see how race, class, sexual orientation and disability intersect with gender. How can feminists stand in solidarity as a movement when there is a distinct likelihood that some women are oppressing others?
Insightful, incendiary and ultimately hopeful, Hood Feminism is both an irrefutable indictment of a movement in flux and also clear-eyed assessment of how to save it. Description by Bloomsbury. Recommended by Claire Gordon. Access: University Library, LAPL, and LA County Library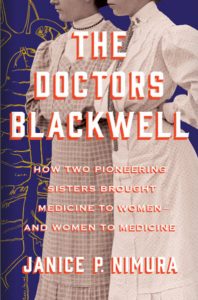 The Doctors Blackwell: How Two Pioneering Sisters Brought Medicine to Women and Women to Medicine
by Janice P. Nimura
New York Times Bestseller
Elizabeth Blackwell believed from an early age that she was destined for a mission beyond the scope of "ordinary" womanhood. Though the world at first recoiled at the notion of a woman studying medicine, her intelligence and intensity ultimately won her the acceptance of the male medical establishment. In 1849, she became the first woman in America to receive an M.D. She was soon joined in her iconic achievement by her younger sister, Emily, who was actually the more brilliant physician.
Exploring the sisters' allies, enemies, and enduring partnership, Janice P. Nimura presents a story of trial and triumph. Together, the Blackwells founded the New York Infirmary for Indigent Women and Children, the first hospital staffed entirely by women. Both sisters were tenacious and visionary, but their convictions did not always align with the emergence of women's rights—or with each other. From Bristol, Paris, and Edinburgh to the rising cities of antebellum America, this richly researched new biography celebrates two complicated pioneers who exploded the limits of possibility for women in medicine. As Elizabeth herself predicted, "a hundred years hence, women will not be what they are now." Description by W.W. Norton. Recommended by Jackie Zak. Access: LAPL, and LA County Library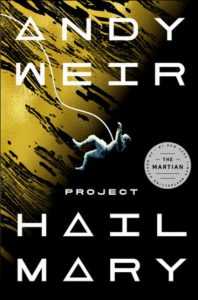 Project Hail Mary: A Novel
by Andy Weir
New York Times Bestseller
Ryland Grace is the sole survivor on a desperate, last-chance mission—and if he fails, humanity and the earth itself will perish.
Except that right now, he doesn't know that. He can't even remember his own name, let alone the nature of his assignment or how to complete it.
All he knows is that he's been asleep for a very, very long time. And he's just been awakened to find himself millions of miles from home, with nothing but two corpses for company.
His crewmates dead, his memories fuzzily returning, Ryland realizes that an impossible task now confronts him. Hurtling through space on this tiny ship, it's up to him to puzzle out an impossible scientific mystery—and conquer an extinction-level threat to our species.
And with the clock ticking down and the nearest human being light-years away, he's got to do it all alone.
Or does he?
An irresistible interstellar adventure as only Andy Weir could deliver, Project Hail Mary is a tale of discovery, speculation, and survival to rival The Martian—while taking us to places it never dreamed of going. Description by Penguin Random House. Recommended by Allan Gilbert. Access: LAPL, and LA County Library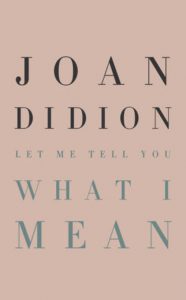 Let Me Tell You What I Mean
by Joan Didion
New York Times Bestseller
These twelve pieces from 1968 to 2000, never before gathered together, offer an illuminating glimpse into the mind and process of a legendary figure. They showcase Joan Didion's incisive reporting, her empathetic gaze, and her role as "an articulate witness to the most stubborn and intractable truths of our time" (The New York Times Book Review).
Here, Didion touches on topics ranging from newspapers ("the problem is not so much whether one trusts the news as to whether one finds it"), to the fantasy of San Simeon, to not getting into Stanford. In "Why I Write," Didion ponders the act of writing: "I write entirely to find out what I'm thinking, what I'm looking at, what I see and what it means." From her admiration for Hemingway's sentences to her acknowledgment that Martha Stewart's story is one "that has historically encouraged women in this country, even as it has threatened men," these essays are acutely and brilliantly observed. Each piece is classic Didion: incisive, bemused, and stunningly prescient. Description by Penguin Random House. Recommended by Jackie Zak. Access: LAPL, and LA County Library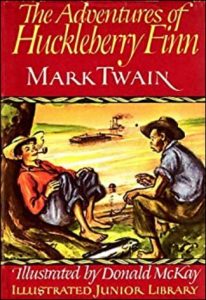 The Adventures of Huckleberry Finn
by Mark Twain
One of the most beloved and influential books in American literature, Mark Twain's The Adventures of Huckleberry Finn is a comic yet incisive portrait of 19th century America. Told from the perspective of Huck Finn, a good-hearted if wayward thirteen-year-old, it vividly recounts his adventures as he escapes his abusive home and embarks on a journey down the Mississippi River along with Jim, a runaway slave. Through the eyes of Huck, and particularly his relationship with Jim, Twain confronts the hypocrisy of a society that clings to slavery and entrenched racial prejudice while claiming to be the land of the free. Description by Simon & Schuster. Recommended by April Feldman. Access: University Library,  LAPL, and LA County Library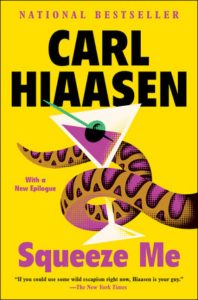 Squeeze Me
by Carl Hiaasen
New York Times Bestseller
At the height of Palm Beach's charity ball season, Kiki Pew Fitzsimmons, a prominent member of geriatric high society, suddenly vanishes during a swank gala. Kiki Pew was a founding member of the Potussies, a group of women dedicated to supporting the President, who spends half the year at the "Winter White House" just down the road. Meanwhile, Angie Armstrong, wildlife wrangler extraordinaire, is called to the island to deal with a monster-sized Burmese python that has taken residency in a tree. But the President is focused on the disappearance of Kiki Pew. Never one to miss an opportunity to play to his base, he immediately declares her a victim of rampaging immigrant hordes. This, it turns out, is far from the truth, which now lies in the middle of the road, where a bizarre discovery brings the First Lady's motorcade to a grinding halt. Irreverent, ingenious, and uproariously entertaining, Squeeze Me perfectly captures the absurdity of our times. Description by Penguin Random House. Recommended by Jackie Zak. Access: LAPL, and LA County Library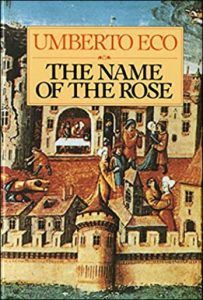 The Name of the Rose
by Umberto Eco
The year is 1327. Franciscans in a wealthy Italian abbey are suspected of heresy, and Brother William of Baskerville arrives to investigate. But his delicate mission is suddenly overshadowed by seven bizarre deaths that take place in seven days and nights of apocalyptic terror.
Brother William turns detective, and a uniquely deft one at that. His tools are the logic of Aristotle, the theology of Aquinas, the empirical insights of Roger Bacon–all sharpened to a glistening edge by his wry humor and ferocious curiosity. He collects evidence, deciphers secret symbols and coded manuscripts, and digs into the eerie labyrinth of the abbey where "the most interesting things happen at night."
As Brother William goes about unraveling the mystery of what happens at the abbey by day and by night, listeners step into a brilliant re-creation of the fourteenth century, with its dark superstitions and wild prejudices, its hidden passions and sordid intrigues. Virtuoso storyteller Umberto Eco conjures up a gloriously rich portrait of this world with such grace, ease, wit and love that you will become utterly intoxicated with the place and time, in The Name of the Rose. Description by  Macmillan Publishers. Recommended by April Feldman. Access: University Library, LAPL, and LA County Library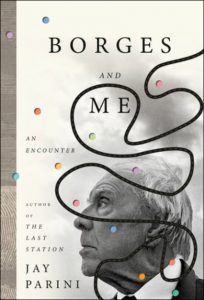 Borges and Me
by Jay Parini