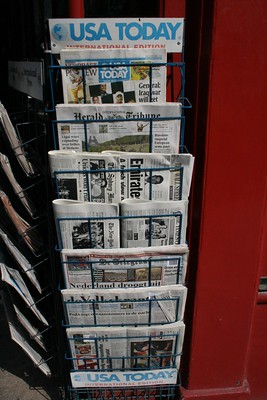 Did you know that the University Library provides access to hundreds of newspaper titles? Whether you need to read a specific article for class or just want to stay up to date with current events, you do not need to pay to read newspapers. The print version of a newspaper, whether the Los Angeles Times or New York Times, can cost anywhere from $2.50 (weekday) to $6 (Sunday). Digital-only subscriptions can be as much as $17/month.
Why go through the University Library? Few newspapers offer their content for free (as noted above), or they limit non-subscribers to only a handful of articles each month. The Library has paid for CSUN students to have access to current and historical newspapers, without ads or pop-ups. What's more, when you use historical news databases (such as the historical Los Angeles Times), you have unlimited access to content going back to the 1800s!
If your instructor has assigned an article, keep in mind that the title of the story can vary from the print to the online version, so the easiest way to find what you need is to use a newspaper database (such as ProQuest Global Newsstream or Nexis Uni) and search by the author, the date, and a keyword from the article. Not sure where a newspaper article might be available? Use the journal search tool in OneSearch. For example, if you search for The Washington Post, you'll find that it is available in several different databases.
Say you would like to skim the L.A. Times each day. You can go directly into the current day's paper through ProQuest. You can also set up news alerts, either by day, by title, or by keyword. Our Finding and Accessing News Articles guide gives step by step instructions on how to do this.
Even if it does not seem like CSUN can grant you access to a specific newspaper title or article, don't forget about CSU+ and Interlibrary Loan, both free alternatives to pay for a newspaper subscription. If you ever have questions about finding an article or exploring newspapers, ask a librarian! The Library can help you stay informed while saving you money at the same time.