Juneteenth is the newest federal holiday in the United States, officially recognized in 2021 on June 19, to celebrate the end of slavery – our second Independence Day.
In September of 1862, President Abraham Lincoln announced the Emancipation Proclamation, which declared that enslaved people in states or areas of "rebellion against the United States" would be free effective on January 1, 1863. However, the Union could not yet enforce the Proclamation in the Confederacy. As military victories accumulated, Union soldiers, many of whom were black, marched onto plantations and across cities in the south reading small copies of the Emancipation Proclamation, spreading the news of freedom in Confederate states. Further encouraged by the proclamation, large numbers of enslaved African Americans self-liberated, escaping chattel slavery to seek refuge behind Union lines.
In April 1865, Confederate General in Chief Robert E. Lee surrendered to Commanding General Ulysses S. Grant of the US Army. While this is often viewed as the effective end of the US Civil War, in parts of the Trans-Mississippi West the war had yet to conclude. Well into May 1865, battles between federal troops and Confederate forces continued in Texas. It was not until June 2, 1865, that Confederate General Edmund Kirby Smith finally surrendered the Trans-Mississippi West to US forces.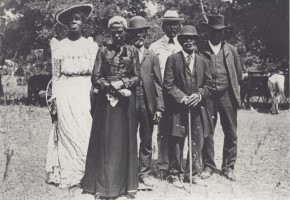 News of the proclamation was slow to reach Texas, and in some places, the news was hidden by slaveholders to preserve slavery. On June 19, 1865, US Brigadier General Gordon Granger and his 2,000 troops landed at Galveston, Texas, finally confirming the news that the Civil War had ended and that enslaved African Americans, including the 250,000 in Texas, were now free. This day came to be known as "Juneteenth" by the newly free people.
The Juneteenth celebration grew during the years following the Civil War, with many formerly enslaved African Americans and their descendants making annual anniversary pilgrimages to Galveston. For more on traditions of this holiday, and other folkways of the Black community in Texas, dive into Juneteenth Texas: Essays in African-American Folklore.
In the twentieth century, the celebration made its way across the country.  For a history of Juneteenth in California, take a look at "Galveston on San Francisco Bay: Juneteenth in the Fillmore District, 1945–2016" by Emily Blanck in Western Historical Quarterly, 50:2, Summer 2019.
The National Museum of African American History and Culture has more resources on Juneteenth, as does the ebook Juneteenth: The Story Behind the Celebration.
If you'd like to continue the California celebration this year, head to Leimert Park this weekend for food, dancing, and art.