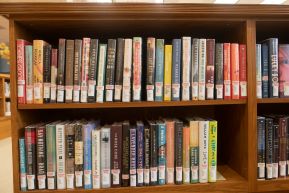 The Library wouldn't be what it is without the staff, specialists, and information professionals that work there. Every year (usually the end of April), communities of library lovers and bibliophiles celebrate "National Library Week." This year's theme was "More to the Story," and in addition to celebrating the dedicated library workers that provide services and programs to our communities, we asked our CSUN library staff to share their own favorite stories.
Below is a list of reading recommendations, featuring books from the CSUN Collection and findable on OneSearch, or available through CSU+/ILL or the Los Angeles Public Library system. In addition, you can learn more about the CSUN University Library by checking out our social media! The Library is on Instagram along with the Creative Maker Studio and Tom & Ethel Bradley Center also have their own accounts with additional content and insights. We even have a TikTok, where you can learn about ILL, catch footage of live performances and library-sponsored events, celebrate the re-opening of the Grand Staircase with us, or explore a new database!
Recommended by David Morck, Web Programmer
"If truth is stranger than fiction, then Saunders' strangeness holds up a mirror to the truth of the world. Surreal and odd, his stories are often a simulacrum of real life, amusement parks where the employees become their characters, museums with oddities that reflect inner turmoil, the mundane becomes grandiose and the grandiose mundane. Effective and strong commentary on our current society." Available in print from CSUN Library.
Recommended by Becky Spiro, Cataloging and Metadata Specialist
Part of the Gohstand Reading Room Collection at CSUN Library.
Reamde by Neal Stephenson
Recommended by Laura Wimberley, Assessment Librarian and Chair of RIOS Department
"Reamde is a fast-paced, cinematic, global thriller with a dizzying cast of characters. A novel for gamers, hackers, and innovators." Available in the Best Sellers Collection (Learning Commons) at CSUN Library.
Recommended by Tarry Kang, Director of Development
"Suspenseful, hilarious, and heartwarming!" Part of the Best Sellers Collection at CSUN and available through CSU+/ILL and at LAPL.
Recommended by Jacqueline Zak, Digital Materials Metadata Specialist
"A well written and entertaining memoir by Conan O'Brien's long-time assistant." Available through CSU+/ILL and at LAPL.
Also Recommended by Jacqueline Zak:
Solito by Javier Zamora
"Poet Javier Zamora's memoir recounting travel on his own as a 9 year old through Guatemala, Mexico and the Sonoran Desert to the United States in 1999". Part of the Gohstand Reading Room Collection and available at LAPL.
"A novel about the deaf community and a school for the deaf written by a member of the community". Available through CSU+/ILL and at LAPL 
"The true story of Ellen Craft, an enslaved woman who escaped slavery with her husband by posing as a white man traveling with her enslaved companion." Available through CSU+/ILL and at LAPL.
Recommended by Nancy Young, Reference Librarian
"Currently reading and loving A Spell of Good Things!" Available at LAPL and through CSU+/ILL.
Recommended by Emilie Ducourneau, Assistant Map Curator
"Funny with ecological undertones." Available at CSUN Library.
Recommended by Gabriel Castaneda, Circulation Desk Lead
"I've been getting into Stoicism this year and it'll be nice to share that with students. 😊" Available at LAPL.
Recommended by Marcia Henry, Research and Instruction Librarian
"This is a book about an ancient (Barcelona around 1350), Hebrew, illuminated manuscript,  the Sarajevo Haggadah, written by the Pulitzer Prize winning author, Geraldine Brooks.  It contains the illustrated traditional text of the Passover Haggadah. This well crafted novel's classified genre is Hisorical Fiction, Thrillers (ficiton).   The  novel is told from the perspective of Hanna Heath, an expert in book restoration, who is called in to restore the text…The great thing about Geraldine Brooks, the CSUN library has all her novels, so if this gets checked out, there are 5 other of her excellent novels to check out."
Recommended by Nicole Shibata, Metadata Librarian
Available in the Best Sellers Collection at CSUN Library.
Recommended by Lynn Lampert, Librarian and Coordinator of Instruction and Information Literacy
"A gripping narrative of a fearless paleontologist, the founding of America's most loved museums, and the race to find the largest dinosaurs on record. In the dust of the Gilded Age Bone Wars, two vastly different men emerge with a mission to fill the empty halls of New York's struggling American Museum of Natural History: Henry Fairfield Osborn, a privileged socialite whose reputation rests on the museum's success, and intrepid Kansas-born fossil hunter Barnum Brown. When Brown unearths the first Tyrannosaurus Rex fossils in the Montana wilderness, forever changing the world of paleontology, Osborn sees a path to save his museum from irrelevancy. With four-foot-long jaws capable of crushing the bones of its prey and hips that powered the animal to run at speeds of 25 miles per hour, the T. Rex suggests a prehistoric ecosystem more complex than anyone imagined. As the public turns out in droves to cower before this bone-chilling giant of the past and wonder at the mysteries of its disappearance, Brown and Osborn together turn dinosaurs from a biological oddity into a beloved part of culture. Vivid and engaging, The Monster's Bones journeys from prehistory to present day, from remote Patagonia to the unforgiving badlands of the American West to the penthouses of Manhattan. With a wide-ranging cast of robber barons, eugenicists, and opportunistic cowboys, New York Times best-selling author David K. Randall reveals how a monster of a bygone era ignited a new understanding of our planet and our place within it." (Summary from the publisher.) Available in the Gohstand Reading Room at CSUN Library.
Also recommended by Lynn Lampert:
Nemesis by Philip Roth
In the "stifling heat of equatorial Newark," a terrifying epidemic is raging, threatening the children of the New Jersey city with maiming, paralysis, lifelong disability, and even death. This is the startling theme of Philip Roth's wrenching new book: a wartime polio epidemic in the summer of 1944 and the effect it has on a closely knit, family-oriented Newark community and its children. At the center of Nemesis is a vigorous, dutiful twenty-three-year-old playground director, Bucky Cantor, a javelin thrower and weightlifter, who is devoted to his charges and disappointed with himself because his weak eyes have excluded him from serving in the war alongside his contemporaries. Focusing on Cantor's dilemmas as polio begins to ravage his playground—and on the everyday realities he faces—Roth leads us through every inch of emotion such a pestilence can breed: the fear, the panic, the anger, the bewilderment, the suffering, and the pain. Moving between the smoldering, malodorous streets of besieged Newark and Indian Hill, a pristine children's summer camp high in the Poconos—whose "mountain air was purified of all contaminants"—Roth depicts a decent, energetic man with the best intentions struggling in his own private war against the epidemic. Roth is tenderly exact at every point about Cantor's passage into personal disaster, and no less exact about the condition of childhood. Through this story runs the dark questions that haunt all four of Roth's late short novels, Everyman, Indignation, The Humbling, and now Nemesis: What kind of accidental choices fatally shape a life? How does the individual withstand the onslaught of circumstance? (Summary from the publisher.) Available in the Gohstand Reading Room at CSUN Library.
A teenage girl living in 1960s China becomes Mao Zedong's protégée and lover–and a heroine of the Cultural Revolution–in this "grand, cinematic, and captivating novel" (Cathy Park Hong, author of Minor Feelings). Available at the LAPL.
Happy reading!