Thank you to Lynn Lampert for this contribution to Cited at the Library
May is Jewish American Heritage Month (JAHM), which recognizes the more than 350-year history of Jewish contributions to American history and culture.
The following books are all available through the CSUN University Library collections. These titles allow readers to explore the historic and current issues that have shaped the Jewish-American experience and contributed to America's History and diverse culture.
Books
Non-Fiction and History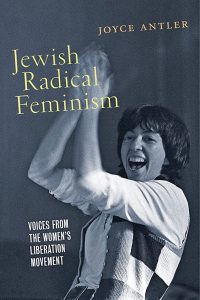 New York, NY: New York University Press, 2018
Available in print (University Library 3rd Floor); BM729.W6 A58 2018 and online with CSUN login
Finalist, 2019 PROSE Award in Biography, given by the Association of American Publishers
Fifty years after the start of the women's liberation movement, a book that at last illuminates the profound impact Jewishness and second-wave feminism had on each other. Jewish women were undeniably instrumental in shaping the women's liberation movement of the 1960s, 70s, and 80s. Yet historians and participants themselves have overlooked their contributions as Jews. This has left many vital questions unasked and unanswered—until now. Delving into archival sources and conducting extensive interviews with these fierce pioneers, Joyce Antler has at last broken the silence about the confluence of feminism and Jewish identity. Antler's exhilarating new book features dozens of compelling biographical narratives that reveal the struggles and achievements of Jewish radical feminists in Chicago, New York and Boston, as well as those who participated in the later, self-consciously identified Jewish feminist movement that fought gender inequities in Jewish religious and secular life. Disproportionately represented in the movement, Jewish women's liberationists helped to provide theories and models for radical action that were used throughout the United States and abroad. Their articles and books became classics of the movement and led to new initiatives in academia, politics, and grassroots organizing. Other Jewish-identified feminists brought the women's movement to the Jewish mainstream and Jewish feminism to the Left. For many of these women, feminism in fact served as a "portal" into Judaism. Recovering this deeply hidden history, Jewish Radical Feminism places Jewish women's activism at the center of feminist and Jewish narratives. The stories of over forty women's liberationists and identified Jewish feminists—from Shulamith Firestone and Susan Brownmiller to Rabbis Laura Geller and Rebecca Alpert—illustrate how women's liberation and Jewish feminism unfolded over the course of the lives of an extraordinary cohort of women, profoundly influencing the social, political, and religious revolutions of our era.
New York : New York University Press, 2012.
Available in print at the University Library (3rd Floor, HQ1426 .K57 2013)
Winner of the 2013 National Jewish Book Award, Women's Studies
Ballots, Babies, and Banners of Peace explores the social and political activism of American Jewish women from 1890 to the beginnings of World War II. Written in an engaging style, the book demonstrates that no history of the birth control, suffrage, or peace movements in the United States is complete without analyzing the impact of Jewish women's presence. The volume is based on years of extensive primary source research in more than a dozen archives and among hundreds of primary sources, many of which have previously never been seen. Voluminous personal papers and institutional records paint a vivid picture of a world in which both middle-class and working-class American Jewish women were consistently and publicly engaged in all the major issues of their day and worked closely with their non-Jewish counterparts on behalf of activist causes.
This extraordinarily well-researched volume makes a unique contribution to the study of modern women's history, modern Jewish history, and the history of American social movements.
Detroit, Michigan: Wayne State University Press, 2019.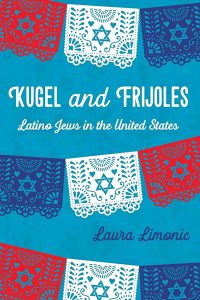 Available online with a CSUN login
An Exploration of ethnic identity and community building through stories of contemporary Latino Jews, "Kugel and Frijoles: Latino Jews in the United States analyzes the changing construction of race and ethnicity in the United States through the lens of contemporary Jewish immigrants from Latin America. Since Latino Jews are not easily classified within the U.S. racial and ethnic schema, their ethnic identity and group affiliation challenge existing paradigms. Author Laura Limonic offers a view into the lives of this designation of Jewish immigrants, highlighting the ways in which they adopt different identities (e.g., national, religious, or panethnic) in response to different actors and situations. Limonic begins by introducing the stories of Latino Jewish immigrants and laying out the important questions surrounding ethnic identity: How do Latino Jews identify? Can they choose their identity or is it assigned to them? How is ethnicity strategic or instrumental? These larger questions are placed within the existing scholarly literature on immigrant integration, religion, and ethnic group construction. Limonic explains how groups can be constructed when there is a lack of a perfect host group and details the ways different factors influence ethnic identity and shape membership into ethnic groups. The book concludes that group construction is never static in the United States, and, in particular, how race, religion, and class are increasingly important mediating factors in defining ethnicity and ethnic identity. As the Latino population continues to grow in the United States, so does the influence of millions of Latinos on U.S. culture, politics, economy, and social structure. Kugel and Frijoles offers new insight with which to understand the diversity of Latinos, the incorporation of contemporary Jewish immigrants, and the effect of U.S. ethno-racial structures for immigrant assimilation."–Provided by publisher
New York: New York University Press, 2017
Available in print at the University Library (3rd floor, BM205 .R315 2017)
(Abstract:) An engaging history of how Jews forged their own religious culture on the American frontier. Jews on the Frontier offers a religious history that begins in an unexpected place: on the road. Shari Rabin recounts the journey of Jewish people as they left Eastern cities and ventured into the American West and South during the nineteenth century. It brings to life the successes and obstacles of these travels, from the unprecedented economic opportunities to the anonymity and loneliness that complicated the many legal obligations of traditional Jewish life. Without government-supported communities or reliable authorities, where could one procure kosher meat? Alone in the American wilderness, how could one find nine co-religionists for a minyan (prayer quorum)? Without identity documents, how could one really know that someone was Jewish? Rabin argues that Jewish mobility during this time was pivotal to the development of American Judaism. In the absence of key institutions like synagogues or charitable organizations which had played such a pivotal role in assimilating East Coast immigrants, ordinary Jews on the frontier created religious life from scratch, expanding and transforming Jewish thought and practice. Jews on the Frontier vividly recounts the story of a neglected era in American Jewish history, offering a new interpretation of American religions, rooted not in congregations or denominations, but in the politics and experiences of being on the move. This book shows that by focusing on everyday people, we gain a more complete view of how American religion has taken shape.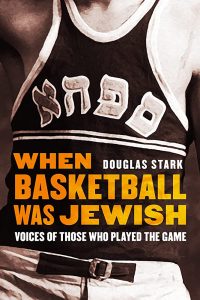 Lincoln, Nebraska: University of Nebraska Press, 2017
Available in print in the University Library (3rd Floor, GV884.A1 S725 2017)
In the 2015-16 NBA season, the Jewish presence in the league was largely confined to Adam Silver, the commissioner; David Blatt, the coach of the Cleveland Cavaliers; and Omri Casspi, a player for the Sacramento Kings. Basketball, however, was once referred to as a Jewish sport. Shortly after the game was invented at the end of the nineteenth century, it spread throughout the country and became particularly popular among Jewish immigrant children in northeastern cities because it could easily be played in an urban setting. Many of basketball's early stars were Jewish, including Shikey Gotthoffer, Sonny Hertzberg, Nat Holman, Red Klotz, Dolph Schayes, Moe Spahn, and Max Zaslofsky. In this oral history collection, Douglas Stark chronicles Jewish basketball throughout the twentieth century, focusing on 1900 to 1960. As told by the prominent voices of twenty people who played, coached, and refereed it, these conversations shed light on what it means to be a Jew and on how the game evolved from its humble origins to the sport enjoyed worldwide by billions of fans today. The game's development, changes in style, rise in popularity, and national emergence after World War II are narrated by men reliving their youth, when basketball was a game they played for the love of it. When Basketball Was Jewish reveals, as no previous book has, the evolving role of Jews in basketball and illuminates their contributions to American Jewish history as well as basketball history.
New York: New York University Press, 2015
Available in print in the University Library (4th Floor, TX945.4 .M47 2015)
For much of the twentieth century, the New York Jewish deli was an iconic institution in both Jewish and American life. As a social space it rivaled–and in some ways surpassed–the synagogue as the primary gathering place for the Jewish community. In popular culture it has been the setting for classics like When Harry Met Sally. And today, after a long period languishing in the trenches of the hopelessly old-fashioned, it is experiencing a nostalgic resurgence. Pastrami on Rye is the first full-length history of the New York Jewish deli. The deli, argues Ted Merwin, reached its full flowering not in the immigrant period, as some might assume, but in the interwar era, when the children of Jewish immigrants celebrated the first flush of their success in America by downing sandwiches and cheesecake in theater district delis. But it was the kosher deli that followed Jews as they settled in the outer boroughs of the city, and that became the most tangible symbol of their continuing desire to maintain a connection to their heritage. Ultimately, upwardly mobile American Jews discarded the deli as they transitioned from outsider to insider status in the middle of the century. Now contemporary Jews are returning the deli to cult status as they seek to reclaim their cultural identities. Richly researched and compellingly told, Pastrami on Rye gives us the surprising story of a quintessential New York institution.–Publisher's Web site.
For much of the twentieth century, the New York Jewish deli rivaled– and in some ways surpassed– the synagogue as the primary gathering place for the Jewish community. The deli, argues Merwin, reached its full flowering not in the immigrant period but in the interwar era, when the children of Jewish immigrants celebrated the first flush of their success in America by downing sandwiches and cheesecake in theater district delis. But it was the kosher deli that followed Jews to the outer boroughs of the city and became the most tangible symbol of their continuing desire to maintain a connection to their heritage.
New York, NY: New York University Press, 2018
Available online with a CSUN login
A glimpse into the diverse stories of Black Jews in the United States. What makes a Jew? This book traces the history of Jews of African descent in America and the counter-narratives they have put forward as they stake their claims to Jewishness. The Soul of Judaism offers the first exploration of the full diversity of Black Jews, including bi-racial Jews of both matrilineal and patrilineal descent; adoptees; black converts to Judaism; and Black Hebrews and Israelites, who trace their Jewish roots to Africa and challenge the dominant western paradigm of Jews as white and of European descent. Blending historical analysis and oral history, Haynes showcases the lives of Black Jews within the Orthodox, Conservative, Reconstruction and Reform movements, as well as the religious approaches that push the boundaries of the common forms of Judaism we know today. He illuminates how in the quest to claim whiteness, American Jews of European descent gained the freedom to express their identity fluidly while African Americans have continued to be seen as a fixed racial group. This book demonstrates that racial ascription has been shaping Jewish selfhood for centuries. Pushing us to reassess the boundaries between race and ethnicity, it offers insight into how Black Jewish individuals strive to assert their dual identities and find acceptance within their respective communities. Putting to rest the simplistic notion that Jews are white and that Black Jews are therefore a contradiction, the volume argues that we can no longer pigeonhole Black Hebrews and Israelites as exotic, militant, and nationalistic sects outside the boundaries of mainstream Jewish thought and community life. The volume spurs us to consider the significance of the growing population of self-identified Black Jews and its implications for the future of American Jewry.
New York: Columbia University Press, 2016.
Available online with a CSUN login
Kosher USA follows the fascinating journey of kosher food through the modern industrial food system. It recounts how iconic products such as Coca-Cola and Jell-O tried to become kosher; the contentious debates among rabbis over the incorporation of modern science into Jewish law; how Manischewitz wine became the first kosher product to win over non-Jewish consumers (principally African Americans); the techniques used by Orthodox rabbinical organizations to embed kosher requirements into food manufacturing; and the difficulties encountered by kosher meat and other kosher foods that fell outside the American culinary consensus.
Kosher USA is filled with big personalities, rare archival finds, and surprising influences: the Atlanta rabbi Tobias Geffen, who made Coke kosher; the lay chemist and kosher-certification pioneer Abraham Goldstein; the kosher-meat magnate Harry Kassel; and the animal-rights advocate Temple Grandin, a strong supporter of shechita, or Jewish slaughtering practice. By exploring the complex encounter between ancient religious principles and modern industrial methods, Kosher USA adds a significant chapter to the story of Judaism's interaction with non-Jewish cultures and the history of modern Jewish American life as well as American foodways. (Publisher Blurb)
Lincoln, NE: UNP – Nebraska, 2016
Available online with CSUN login
In 2010 approximately 15 percent of all new marriages in the United States were between spouses of different racial, ethnic, or religious backgrounds, raising increasingly relevant questions regarding the multicultural identities of new spouses and their offspring. But while new census categories and a growing body of statistics provide data, they tell us little about the inner workings of day-to-day life for such couples and their children. JewAsian is a qualitative examination of the intersection of race, religion, and ethnicity in the increasing number of households that are Jewish American and Asian American. Helen Kiyong Kim and Noah Samuel Leavitt's book explores the larger social dimensions of intermarriages to explain how these particular unions reflect not only the identity of married individuals but also the communities to which they belong. Using in-depth interviews with couples and the children of Jewish American and Asian American marriages, Kim and Leavitt's research sheds much-needed light on the everyday lives of these partnerships and how their children negotiate their own identities in the twenty-first century.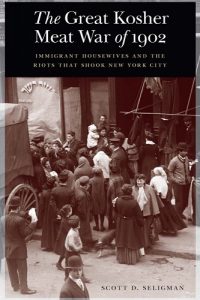 Lincoln, Nebraska: Potomac Books, an imprint of the University of Nebraska Press, 2020
Available online with CSUN login
(Summary from reviewer: Gerald W. McFarland | August 2021) On May 14, 1902, a sudden rise in the price of kosher beef triggered an angry grassroots response among Jewish housewives on Manhattan's Lower East Side. Scott D. Seligman calls this The Great Kosher Meat War of 1902. At a mass meeting that assembled on the night of May 14th, these working-class immigrant women agreed to boycott kosher butcher shops in the district, and the next morning they set up picket lines outside the shops. Violence soon ensued. Customers who had entered the shops and bought meat had their purchases forcefully taken from them. Shop windows were smashed and shop interiors vandalized, the most common method being pouring kerosene on beef that was on display. Hundreds of police who were called to the scene dealt with the protestors harshly, beating them with nightsticks and arresting dozens. The boycotting women did not back off. More mass meetings were held and picketing continued. By early June the boycott's devastating impact on the livelihoods of the district's retail butchers led to a reduction in the price of retail beef and the end of the boycott.
Seligman skillfully outlines the key facts about these events and their aftermath. The boycott was initially led and populated by Jewish immigrant women, their efforts soon supplemented by male allies, many with experience in the labor movement. The Lower East Side's retail butchers who, like their customers, were also Jews, were caught in a vise between angry housewives and the formidable price-setting power of local wholesale slaughterhouses and the monopolistic control over beef production exercised by six huge Midwestern corporations known collectively as the Beef Trust. During the weeks that the kosher meat boycott was in its most intense phase, the market hegemony of these corporations (led by industrial titans such as Gustavus Swift and Philip Armour) was itself being challenged by the Theodore Roosevelt administration's legal assault on monopolistic practices, a parallel story that Seligman describes as the deep background to events on the Lower East Side of Manhattan.
Princeton: Princeton University Press, 2021
Available in print in the University Library (3rd Floor, F129.K68 S76 2021)
Settled in the mid-1970s by a small contingent of Hasidic families, Kiryas Joel is an American town with few parallels in Jewish history–but many precedents among religious communities in the United States. This book tells the story of how this group of pious, Yiddish-speaking Jews has grown to become a thriving insular enclave and a powerful local government in upstate New York. While rejecting the norms of mainstream American society, Kiryas Joel has been stunningly successful in creating a world apart by using the very instruments of secular political and legal power that it disavows. Nomi Stolzenberg and David Myers paint a richly textured portrait of daily life in Kiryas Joel, exploring the community's guiding religious, social, and economic norms. They delve into the roots of Satmar Hasidism and its charismatic founder, Rebbe Joel Teitelbaum, following his journey from nineteenth-century Hungary to post-World War II Brooklyn, where he dreamed of founding an ideal Jewish town modeled on the shtetls of eastern Europe. Stolzenberg and Myers chart the rise of Kiryas Joel as an official municipality with its own elected local government. They show how constant legal and political battles defined and even bolstered the community, whose very success has coincided with the rise of political conservatism and multiculturalism in American society over the past forty years. (from the book jacket)
1st ed. Cambridge, UK: Open Book Publishers, 2018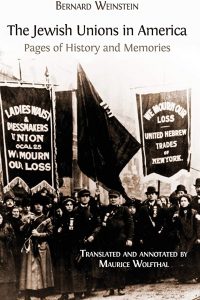 Available in print in the University Library (3rd floor, HD6508 .W3513 2018) and online
Having escaped pogrom-riddled Czarist Russia, the young Bernard Weinstein became enmeshed in the worlds of unionism, socialism, and anarchism on New York City's Lower East Side. This first-person account, here translated from the original Yiddish, explores their development from 1889 through the 1930s, making this a rich primary document. While sometimes more of an encyclopedic rendering, Weinstein's book also brings to life seminal figures like Abraham Cahan, Meyer London, Morris Hillquit, Daniel De Leon, and Sidney Hillman. Similarly, Weinstein discusses the Socialist Labor Party, various iterations of the American Socialist Party, the Industrial Workers of the World, and a wide array of heavily Jewish labor confederations such as the International Ladies' Garment Workers' Union and the United Garment Workers of America. The author presents a microcosm of the early American labor movement, and also tracks the influx of Jewish immigration. Many had to contend with debilitating sweatshops, hellacious living and working conditions, exploitative bosses, prejudice, stereotypes, and tragedies on the order of the 1911 Triangle Shirtwaist Company Fire. Somehow, most endured, and expectations for the next generation were much greater.
Biography
New York, NY: Oxford University Press, 2017
Available in print at the University Library (3rd Floor, HQ1413.R6 A53 2017)
Known as "the queen of the platform," Ernestine Rose was more famous than her women's rights co-workers, Elizabeth Cady Stanton and Susan B. Anthony. By the 1850s, Rose had become an outstanding orator for feminism, free thought, and anti-slavery. Yet, she would gradually be erased from history for being too much of an outlier: an immigrant, a radical, and an atheist. In The Rabbi's Atheist Daughter, Bonnie S. Anderson recovers the unique life and career of Ernestine Rose. The only child of a Polish rabbi, Ernestine Rose rejected religion at an early age, successfully sued for the return of her dowry after rejecting an arranged betrothal, and left her family, Judaism, and Poland forever. In London, she became a follower of socialist Robert Owen and met her future husband, William Rose. Together they emigrated to New York in 1836. In the United States, Ernestine Rose rapidly became a leader in movements against slavery, religion, and women's oppression and a regular on the lecture circuit, speaking in twenty-three of the thirty-one states. She challenged the radical Christianity that inspired many nineteenth-century women reformers and yet, even as she rejected Judaism, she was both a victim and critic of antisemitism, as well as nativism. In 1869, after the Civil War, she and her husband returned to England, where she continued her work for radical causes. By the time women achieved the vote, for which she tirelessly advocated throughout her long career, her pioneering contributions to women's rights had been forgotten. The Rabbi's Atheist Daughter restores Ernestine Rose to her rightful place in history and offers an engaging account of her international activism
New Haven: Yale University Press, 2021.
Available in print at the University Library (4th Floor, PS3539.A9673 F76 2021)
The untold life story of All-of-a-Kind Family author Sydney Taylor, highlighting her dramatic influence on American children's literature. This is the first and only biography of Sydney Taylor (1904-1978), author of the award-winning All-of-a-Kind Family series of books, the first juvenile novels published by a mainstream publisher to feature Jewish children. The family-based on Taylor's own as a child-includes five sisters, each two years apart, dressed alike by their fastidious immigrant mother so they all look the same: all-of-a-kind. The four other sisters' names were the same in the books as in their real lives; only the real-life Sarah changed hers to the boyish Sydney while she was in high school. Cummins elucidates the deep connections between the progressive Taylor's books and American Jewish experiences, arguing that Taylor was deeply influential in the development of national Jewish identity. This biography conveys the vital importance of children's books in the transmission of Jewish culture and the preservation of ethnic heritage.
1st ed. New York: Pantheon Books, 1994.
Available in print at the University Library (3rd floor, D810.S8 B4693 1994)
The Catcher Was a Spy: The Mysterious Life of Moe Berg is a non-fiction work by writer Nicholas Dawidoff. In this book, Dawidoff explores the life story of Moe Berg, a highly educated lawyer who was also a professional baseball player for sixteen years before joining the OIAA and then the OSS in the aftermath of the bombing of Pearl Harbor. The Catcher Was a Spy is a true story of one man who was an enigma that many still are trying to understand today.
Moe Berg was the third child of Ukrainian immigrants, determined to fit in in their new country. Moe's father owned a laundry before training to become a pharmacist and owning his own drug store. Moe's father worked hard and disapproved of what he saw as a child's game, baseball. Despite this, Moe became a star baseball player during his years at Princeton University and later became a professional ballplayer.
Moe Berg's family was Jewish, but his father was unhappy with the stigma his religion placed on him in his new country and chose to deny his faith, even though he never changed his name or made any covert effort to disguise his birthright. Bernard Berg refused to allow Yiddish or Hebrew to be spoken in his home and refused to have his sons celebrate their bar mitzvah. For this reason, Moe and his siblings grew up being teased by schoolmates for their religion, but not celebrating or otherwise learning about it, leading to an ambiguous and often confused sense of their own heritage. (Bookrags.com Summary)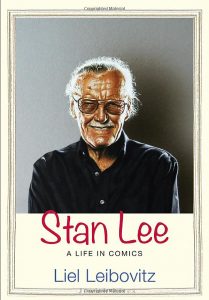 New Haven: Yale University Press, 2020
Available online with CSUN login
From the prizewinning Jewish Lives series, a meditation on the deeply Jewish and surprisingly spiritual roots of Stan Lee and Marvel Comics
Few artists have had as much of an impact on American popular culture as Stan Lee. The characters he created—Spider-Man and Iron Man, the X-Men and the Fantastic Four—occupy Hollywood's imagination and production schedules, generate billions at the box office, and come as close as anything we have to a shared American mythology.
This illuminating biography focuses as much on Lee's ideas as it does on his unlikely rise to stardom. It surveys his cultural and religious upbringing and draws surprising connections between celebrated comic book heroes and the ancient tales of the Bible, the Talmud, and Jewish mysticism. Was Spider-Man just a reincarnation of Cain? Is the Incredible Hulk simply Adam by another name? From close readings of Lee's work to little-known anecdotes from Marvel's history, the book paints a portrait of Lee that goes much deeper than one of his signature onscreen cameos.
Stanford, California: Stanford University Press, 2021
Available online with CSUN login
Wild Visionary reconsiders Maurice Sendak's life and work in the context of his experience as a Jewish gay man. Maurice (Moishe) Bernard Sendak (1928–2012) was a fierce, romantic, and shockingly funny truth seeker who intervened in modern literature and culture. Raising the stakes of children's books, Sendak painted childhood with the dark realism and wild imagination of his own sensitive "inner child," drawing on the queer and Yiddish sensibilities that shaped his singular voice. Interweaving literary biography and cultural history, Golan Y. Moskowitz follows Sendak from his parents' Brooklyn home to spaces of creative growth and artistic vision—from neighborhood movie palaces to Hell's Kitchen, Greenwich Village, Fire Island, and the Connecticut country home he shared with Eugene Glynn, his partner of more than fifty years. Further, he analyzes Sendak's investment in the figure of the endangered child in symbolic relation to collective touchstones that impacted the artist's perspective—the Great Depression, the Holocaust, and the AIDS crisis. Through a deep exploration of Sendak's picture books, interviews, and previously unstudied personal correspondence, Wild Visionary offers a sensitive portrait of the most beloved and enchanting picture-book artist of our time.
New Haven: Yale University Press, 2021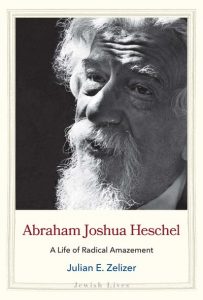 Available in print at the University Library (3rd Floor, BM755.H37 Z45 2021)
"When I marched in Selma, I felt my legs were praying." So said Polish-born American rabbi Abraham Joshua Heschel (1907-1972) of his involvement in the 1965 Selma civil rights march alongside Martin Luther King, Jr. Heschel, who spoke with a fiery moralistic fervor, dedicated his career to the struggle to improve the human condition through faith. In this new biography, author Julian Zelizer tracks Heschel's early years and foundational influences-his childhood in Warsaw and early education in Hassidism, his studies in late 1920s and early 1930s Berlin, and the fortuitous opportunity, which brought him to the United States, to study at Hebrew Union College and teach at the Jewish Theological Seminary. This deep and complex portrait places Heschel at the crucial intersection between religion and progressive politics in mid-twentieth-century America. To this day Heschel remains a symbol of the fight to make progressive Jewish values relevant in the secular world"
Fiction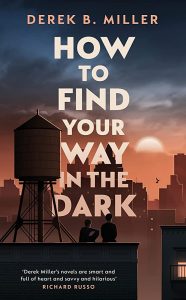 Boston: Houghton Mifflin Harcourt, 2021.
Available in print at the University Library (4th Floor, PS3613.I5337 H69 2021)
A coming-of-age story set during the rising tide of World War II, How to Find Your Way in the Dark follows Sheldon Horowitz from his humble start in a cabin in rural Massachusetts, through the trauma of his father's murder and the murky experience of assimilation in Hartford, Connecticut, to the birth of stand-up comedy in the Catskills–all while he and his friends are beset by anti-Semitic neighbors, employers, and criminals"–1938. Twelve-year old Sheldon Horowitz is still recovering from the tragic loss of his mother only a year ago when a suspicious traffic accident steals the life of his father near their home in rural Massachusetts. Sheldon, who was in the truck, emerges from the crash an orphan hell-bent on revenge. He embarks on a new life under the roof of his buttoned-up Uncle Nate in Hartford. Sheldon, his teenage cousins Abe and Mirabelle, and his best friend, Lenny, will contend with tradition and orthodoxy, appeasement and patriotism, mafia hit-men and angry accordion players, all while World War II takes center stage alongside a hurricane in New England and comedians in the Catskills. (adapted from jacket)
First edition. New York: Random House, 2000
Available in print at the University Library (4th Floor, PS3553.H15 A82 2000)
The Amazing Adventures of Kavalier and Clay is a Pulitzer Prize -winning 2000 novel by Michael Chabon about The Golden Age of Comic Books, focusing on two Jewish cousins, American writer Sam Clay (born Klayman) and Czech artist Josef Kavalier, who together create a popular superhero comic called the Escapist, inspired in equal measure by Harry Houdini and Superman.
1st edition. New York: Farrar, Straus and Giroux, 2016
Available in print at the University Library (Gohstand Reading Room, 2nd Floor, PS3606.O38 H47 2016)
"In the book of Genesis, when God calls out, 'Abraham!' to order him to sacrifice his son Isaac, Abraham responds, 'Here I am.' Later, when Isaac calls out, 'My father!' to ask him why there is no animal to slaughter, Abraham responds, 'Here I am.' How do we fulfill our conflicting duties as father, husband, and son; wife and mother; child and adult? Jew and American? How can we claim our own identities when our lives are linked so closely to others'? These are the questions at the heart of Jonathan Safran Foer's first novel in eleven years–a work of extraordinary scope and heartbreaking intimacy. Unfolding over four tumultuous weeks, in present-day Washington, D.C., Here I Am is the story of a fracturing family in a moment of crisis. As Jacob and Julia and their three sons are forced to confront the distances between the lives they think they want and the lives they are living, a catastrophic earthquake sets in motion a quickly escalating conflict in the Middle East. At stake is the very meaning of home–and the fundamental question of how much life one can bear. Showcasing the same high-energy inventiveness, hilarious irreverence, and emotional urgency that readers and critics loved in his earlier work, Here I Am is Foer's most searching, hard-hitting, and grandly entertaining novel yet. It not only confirms Foer's stature as a dazzling literary talent but reveals a mature novelist who has fully come into his own as one of the most important writers of his generation."–
First edition. New York: Alfred A. Knopf, 1997
Available in print at the University Library (4th Floor, PS3565.Z5 P8 1997)
"The Puttermesser Papers," Cynthia Ozick's fanciful, poignant, elegant new novel is a kind of Jewish magical realism brought to the normally earthbound spiritual territory of the Bronx and Manhattan. Ms. Ozick tells the life story of Ruth Puttermesser — the name suggests butter knife in German — beginning with her brief career as a 34-year-old corporate lawyer and ending with her rape and murder as a 90-year-old recluse, the crime against her an emblem of a calamitous decline of civility.
The book is in part a sharply satirical commentary on contemporary urban life and in part a reworking of an ancient, mystical, redemptive Jewish legend. Those two parts clash in a novel that sometimes seems to be unsure what it is: a modern tale of the supernatural or a naturalistic tale of the modern. A golem figures prominently in "The Puttermesser Papers," as does a description of the paradise that Puttermesser experiences after her death.
First edition. New York, NY: Harper, an imprint of HarperCollinsPublishers, 2021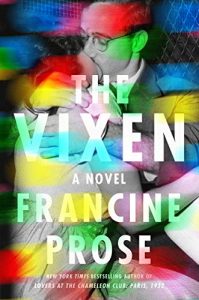 Available in print at the University Library (Gohstand Reading Room, 2nd Floor, PS3566.R68 V59 2021)
1953. Simon Putnam, newly hired by a distinguished New York publishing firm, gets his first assignment: editing The Vixen, the Patriot and the Fanatic, a lurid bodice-ripper improbably based on the recent trial and execution of Ethel and Julius Rosenberg. It is a potboiler intended to shore up the firm's failing finances. Simon's mother was a childhood friend of Ethel Rosenberg's; his parents mourn Ethel's death. Simon meets The Vixen author, reckless, seductive Anya Partridge, ensconced in her opium-scented boudoir in a luxury Hudson River mental asylum. Simon comes to realize that everyone is not what they seem, that everyone is keeping secrets, and that ordinary events may conceal a diabolical plot. (– adapted from jacket.)
First edition. New York, NY: Tordotcom, a Tom Doherty Associates Book, 2021
Available in print at the University Library (4th Floor, PS3619.C3265 B87 2021)
In Burning Girls and Other Stories, Veronica Schanoes crosses borders and genres with stories of fierce women at the margins of society burning their way toward the center. This debut collection introduces readers to a fantasist in the vein of Karen Russell and Kelly Link, with a voice all her own. Emma Goldman–yes, that Emma Goldman–takes tea with the Baba Yaga and truths unfold inside of exquisitely crafted lies. In "Among the Thorns," a young woman in seventeenth century Germany is intent on avenging the brutal murder of her peddler father, but discovers that vengeance may consume all that it touches. In the showstopping, awards finalist title story, "Burning Girls," Schanoes invests the immigrant narrative with a fearsome fairytale quality that tells a story about America we may not want–but need–to hear. Dreamy, dangerous, and precise, with the weight of the very oldest tales we tell, Burning Girls and Other Stories introduces a writer pushing the boundaries of both fantasy and contemporary fiction" (from the jacket)
Graphic Novels
The Golem's Mighty Swing by James Sturm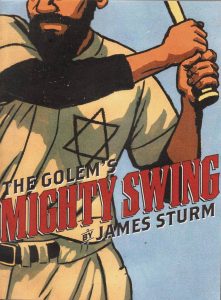 First edition. Montréal, Québec: Drawn & Quarterly, 2017
Available in print at the University Library (Course Reserves, Main Floor/Guest Services, PN6727.S79 G65 2017)
By reuniting America's greatest pastime with its hidden history, the graphic novel tells the story of the Stars of David, a barnstorming Jewish baseball team of the depression era. Led by its manager and third baseman, the nomadic team travels from small town to small town providing the thrill of the sport while playing up their religious exoticism as a curio for people to gawk at, heckle, and taunt. When the team's fortunes fall, the players are presented a plan to get people in the stands. But by placing their fortunes in the hands of a promoter, the Stars of David find themselves fanning the flames of ethnic tensions. Sturm's nuanced composition is on full display as he deftly builds the climax of the game against the rising anti-semitic fervor of the crowd. (Provided by publisher)
Young Adult and Juvenile Collections
New York: Abrams Books for Young Readers, 2021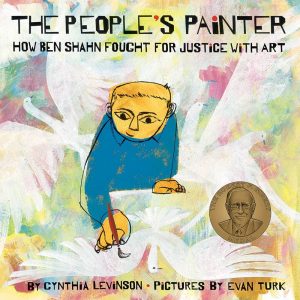 Available in print at the University Library (Teacher's Curriculum Center, 2nd Floor, ND237.S465 L48 2021)
"The first thing I can remember," Ben said, "I drew."
As an observant child growing up in Lithuania, Ben Shahn yearns to draw everything he sees—and, after seeing his father banished by the Czar for demanding workers' rights, he develops a keen sense of justice, too.
So when Ben and the rest of his family make their way to America, Ben brings both his sharp artistic eye and his desire to fight for what's right. As he grows, he speaks for justice through his art—by disarming classmates who bully him because he's Jewish, by defying his teachers' insistence that he paint beautiful landscapes rather than true stories, by urging the US government to pass Depression-era laws to help people find food and jobs.
In this moving and timely portrait, award-winning author Cynthia Levinson and illustrator Evan Turk honor an artist, immigrant, and activist whose work still resonates today: a true painter for the people.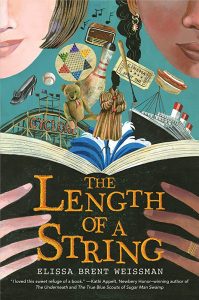 New York, NY: Dial Books For Young Readers, 2018.
Available in print at the University Library (Teacher's Curriculum Center, 2nd Floor, PZ7.W448182 Le 2018)
Twelve-year-old Imani, the only black girl in Hebrew school, is preparing for her bat mitzvah and hoping to find her birthparents when she discovers the history of adoption in her own family through her great-grandma Anna's Holocaust-era diary.
"Imani is adopted, and she's ready to search for her birth parents. But when she discovers the diary her Jewish great-grandmother wrote chronicling her escape from Holocaust-era Europe, Imani begins to see family in a new way. Imani knows exactly what she wants as her big bat mitzvah gift: to find her birth parents. She loves her family and her Jewish community in Baltimore, but she has always wondered where she came from, especially since she's black and almost everyone she knows is white. Then her mom's grandmother–Imani's great-grandma Anna–passes away, and Imani discovers an old journal among her books. It's Anna's diary from 1941, the year she was twelve and fled Nazi-occupied Luxembourg alone, sent by her parents to seek refuge in Brooklyn, New York. Anna's diary records her journey to America and her new life with an adoptive family of her own. And as Imani reads the diary, she begins to see her family, and her place in it, in a whole new way." (Publisher's description.)