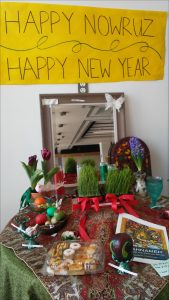 Nowruz is celebrated this year on March 19th, 2020.
Nowruz (lit., "new day") the Iranian national festival celebrates the arrival of spring. A festival of renewal, hope, and happiness, Nowruz begins on the first day of Farvardīn, the first month of the Iranian solar calendar, at the spring equinox, and continues for twelve days (Yarshater, 2005).
At home, the haftseen table is decorated with seven items – since seven is considered a lucky number. Each item begins with the letter sin (s) in Persian, and each item is a symbol of spring and renewal, including (Fulton, 2016):
·      Seeb (apple), representing beauty
·      Seer (garlic), representing good health
·      Serkeh (vinegar), representing patience
·      Sonbol (hyacinth), representing spring
·      Samanu (sweet pudding), representing fertility
·      Sabzeh (sprouts), representing rebirth
·      Sekeh (coins), representing prosperity
Thank you to CSUN's Iranian Student Association (CSUN ISA) for sharing the celebration of Nowruz with our campus. You can visit the Nowruz haftseen table in the Library's lobby and leave a note for the new year and spring. To get involved with CSUN ISA visit http://www.csun.edu/isa/
May every day of the new year bring good cheer and happiness for you and your family. Happy Nowruz!