eNews Edition: Fall 2017
Contributed by Virginia Elwood-Akers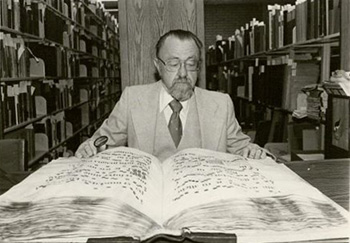 Jane McMahon still remembers when she first met Dennis Bakewell. Jane volunteered after the 1971 Sylmar earthquake, which is when she was first introduced to Special Collections librarian Dennis Bakewell. Dennis immediately put her to work in an iron cage on the fourth floor of the Library. In the aftermath of the recent Sylmar earthquake, McMahon found to her dismay that precious collection materials had been buried three to four feet deep. Perhaps Bakewell, the librarian in charge of the Special Collections, recognized in McMahon a future librarian, because he gave her the task of re-shelving and organizing the fallen books. McMahon quickly fell in love with the books, with the work, and, in a way, with Dennis Bakewell.
After graduating from library school at UC Berkeley Dennis Bakewell came to the fledgling San Fernando Valley State College campus as a cataloger in 1959. Within a few years he was made the Library's Social Sciences Specialist and there he might have remained, had not Norman Tanis become the Director of the Library in 1969. Tanis recognized in Bakewell a fellow lover of books, particularly rare or fine press books, and manuscript collections. In 1971 Tanis moved these materials from his office into the cage, and gave Bakewell the title of Special Collections Librarian. Between the two of them, they would build the tiny collection into a nationally and internationally recognized collection, that in 2017 boasts over 50,000 cataloged items.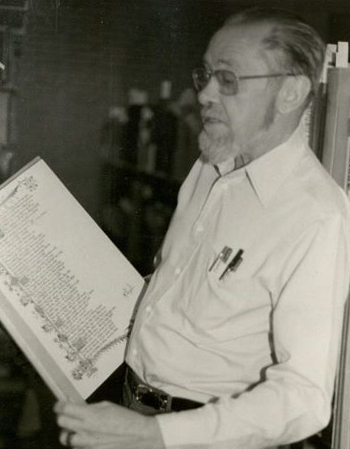 Bakewell did not immediately turn to the library field when he was graduated from Pomona College in 1948. Raised an only child in Grant's Pass, Oregon, he had attended the University of Oregon until World War II intervened. After the war, he moved to California with his widowed mother and finished his undergraduate education at Pomona. Moving with his mother to Berkeley, Bakewell briefly worked in San Francisco in a clerical position. By the late 1950's he was back in school and working to become a librarian. The Library at San Fernando Valley State College was his first and only professional position.
When the Oviatt Library opened in 1973, Special Collections moved into the Garden Level. By then the college had become California State University, Northridge and Dean Norman Tanis and Bakewell set out to create a Special Collections department worthy of a major university. Tanis established the Bibliographic Society of CSUN, a friends group whose main purpose was to generate funds to purchase special materials. Together, he and Bakewell sought books and manuscript collections for Special Collections. They began to attract the attention of booksellers and collectors throughout Los Angeles, who came to the library to gather in the Special Collections room and discuss their favorite topics.
Renowned Los Angeles bookseller/publishers Jake Zeitlin and Ward Ritchie came to these gatherings, along with book collector Carl Haverlin, who ultimately gifted his magnificent collection on Abraham Lincoln to the Oviatt Library. Fine press bookbinder Tommy Thompson was a frequent visitor, as well as book-loving faculty members like Vern Bullough and Barnabas Hughes. Nearby San Fernando Valley residents like Herb Yellin, a bookseller and small press owner, and Carl Dentzel, who was then the head of the Southwest Museum of the American Indian were part of the group.
Bakewell's literary expertise was matched by his ability to shmooze. He was a man of few words, but when he spoke, you could be sure that what he said was interesting. One of Bakewell's tasks was to act as host to these eminent men – and they were, in fact, all men, except that over in the corner Jane McMahon sat quietly working. McMahon still remembers these gatherings as incredibly interesting and educational. She now says, "These men were magnificent storytellers of books, manuscripts, authors known in Los Angeles environs."
Bakewell wore several other hats. He was deeply involved in Letterpress Printing Chapel, and acted as copy editor for several of the books published by the Library's own Santa Susana Press. He compiled a massive bibliography called The Black Experience in the United States based on the Library's holdings on the subject, and acted as co-compiler of Lynton Kistler, Printer-Lithograper, which listed the books printed by the famed printer from 1927 through 1974. In addition, Bakewell organized and curated many Library exhibits based on materials in the collection, such as the 1976 exhibit of the library's Carl Sandberg Collection and the popular exhibit of Biology Professor William Emboden's extensive collection on Sarah Bernhardt, in 1977.
For many years, Bakewell seemed the very epitome of the stereotypical grumpy bachelor librarian, but in 1982 he surprised his colleagues by marrying a vivacious woman who seemed his exact opposite, Hildegarde Salinas. Bakewell still tried to play his curmudgeonly role, and always seemed a little surprised to find the bubbly Hildy at his side, where she remained until her death in 1994. By that time Bakewell had retired from CSUN, but was still seen regularly in the Oviatt Library checking out books to read. He lived quietly alone until his death in late 2016.
Dennis Bakewell was a quiet man, who lived a mostly quiet life, but he left a great legacy in the Special Collections and Archives at CSUN.