June 12, 2008 to August 6, 2008
Library Lobby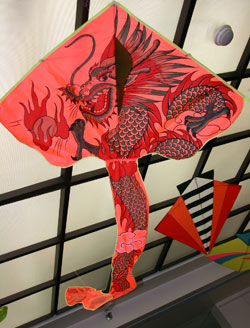 Throughout the world, kites have served as toys, cultural and religious symbols, artworks, tools of war, and instruments of science and technology. While materials and designs have changed over the years, kites have endured as devices with many applications and meanings.
Included in this exhibit were:
A video exploring how different types of kites are made and demonstrating sport kite tricks and kite surfboarding.
A 3-D clipper ship, handcrafted in Bali with nylon sails and bamboo supports, a favorite from last year's exhibit.
A Chinese Dragon kite, made from silk, bamboo and feathers
Kite related items, including children's books, festival pins, etc.
Exhibition curated by Gina Hsiung (Oviatt Library, Cataloging & Database Maintenance Supervisor) and Glen E. Rothstein (Ventura County Kite Flyers)
Assistive Services
Requests for accommodation services (e.g., sign language interpreters or transcribers) must be made at least five (5) business days in advance. Please call (818) 677-2638 in advance of the event.