February 8, 2010 to April 1, 2010
Library Lobby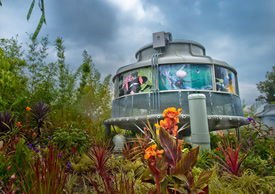 How is CSU, Northridge saving electricity plus creating energy? How are our recycling and water saving efforts contributing to a more sustainable campus?
Come to the Oviatt Library lobby to see a fascinating exhibit created by the CSU, Northridge Institute for Sustainability. Displays highlight the new campus "rain forest," water and energy reduction measures, food garden plans, sustainable engineering programs, GIS (Geographical Information Systems) analyses, and the design of green spaces on campus and in the community. Hedy Carpenter, Helen Cox and Sarah Erickson are the Exhibit Coordinators.
The CSU, Northridge Institute for Sustainability, in cooperation with Physical Plant Management, Associated Students, the Core Greening Team, and colleges across campus have been working on projects that will "green" the university's operations and curriculum. The Institute was founded by the Office of the Provost in October 2008 to promote, facilitate, and develop educational, research, and university and community programs related to sustainability, and serve as an umbrella organization across all the university colleges on issues related to sustainability.
Visitor Information
Parking is $8.00. For more information about parking please see Visitor Information.
To arrange assistance for persons with disabilities, including interpreters for deaf and hard of hearing persons, please call (818) 677-2638 in advance of the event.