November 16, 2017 - 4:00pm to 6:00pm
Library Exhibit Gallery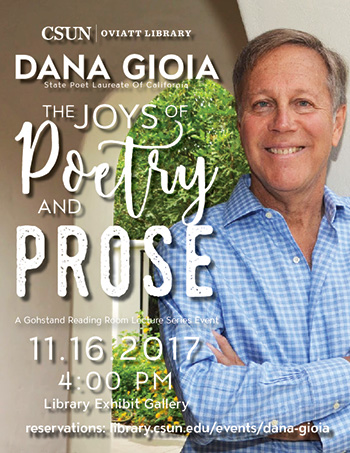 California State University Northridge presents

Dana Gioia: The Joys of Poetry and Prose
Biennial Gohstand Reading Room Lecture Series
Dana Gioia (pronounced JOY-uh) is an internationally acclaimed and award-winning poet, former Chairman of the National Endowment for the Arts, and a California native of Italian and Mexican descent. Gioia has published five full-length collections of poetry, winning the Aiken-Taylor Award for lifetime achievement in American poetry in 2014. In 2015 Gioia was appointed the State Poet Laureate of California. His essay Can Poetry Matter? was finalist for the National Book Critics Circle award and is credited with helping to revive the role of poetry in American public culture.
The Robert and Maureen Gohstand Leisure Reading Room, located in the West Wing, second floor of the Oviatt Library, immediately adjacent to the Library Exhibit Gallery, provides an attractive space for the enjoyment of the quiet pleasures of reading and a collection of works intended to encourage reading for recreation and enlightenment.
This event is supported by the CSUN Distinguished Visiting Speakers Program.
Please RSVP for this event by using the form below.
RSVP Form
Assistive Services
Requests for accommodation services (e.g., sign language interpreters or transcribers) must be made at least five (5) business days in advance. Please e-mail library.event@csun.edu in advance of the event.