September 22, 2008 to August 2, 2009
Library Exhibit Gallery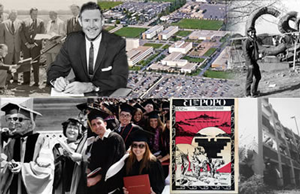 California State University, Northridge/San Fernando Valley State College are at the half century mark.
Join us for an exhibition of our history from 1958 to 2008 which looks at the establishment of the campus, student life, athletics, homecomings, student housing, the rise of protests in the 1960s, even streakers in the 1970s, as seen through photographs, yearbooks, student newspapers, documents and memorabilia.
Visitor Information
Parking is $8.00. For more information about parking please see Visitor Information.
To arrange assistance for persons with disabilities, including interpreters for deaf and hard of hearing persons, please call (818) 677-2638 in advance of the event.