August 25, 2017 to October 1, 2017
Music & Media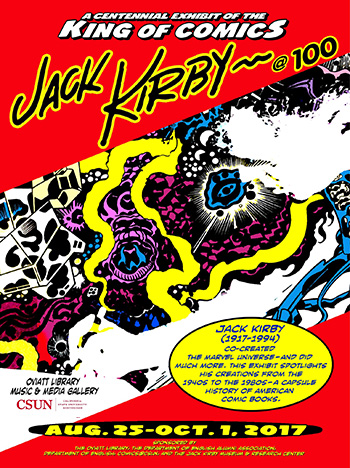 "Jack Kirby @ 100," an exhibit of comic books and prints at the Oviatt Library, commemorates the centenary of the famed artist known for co-creating the Marvel Universe. Kirby (b. Jacob Kurtzberg, 1917-1994), a legendary figure in comics, is one of the most beloved and imitated artists in American popular culture. CSUN celebrated his legacy in 2015 with an Art Galleries exhibition, Comic Book Apocalypse, and continues this term with this new exhibit, timed for the 100th anniversary of his birth. Curated by CSUN English Professor and Kirby scholar Charles Hatfield, "Jack Kirby @ 100" shows Kirby's influence across many genres, including superheroes (for example, Captain America, the Avengers, and the X-Men), romance, crime, science fiction, westerns, war, and horror. The show reveals Kirby's versatility as well as the popular dreams and concerns of WWII and Cold War-era America. The exhibit will run in the Oviatt's Music & Media wing, August 25-October 1. To launch the show, Hatfield will host a panel with comics creators Mark Badger and Tony Puryear on Monday, Aug. 28 (Kirby's 100th birthday) from 3:00 to 5:00 p.m., in the Oviatt's Jack & Florence Ferman Presentation Room.
"Jack Kirby @ 100" is sponsored by the Oviatt Library, English Department Alumni Association, English Department, College of Humanities, Comics@CSUN initiative, and Jack Kirby Museum & Research Center (kirbymuseum.org).
Assistive Services
Requests for accommodation services (e.g., sign language interpreters or transcribers) must be made at least five (5) business days in advance. Please e-mail library.event@csun.edu in advance of the event.