January 1, 2014 to May 31, 2014
Special Collections & Archives Reading Room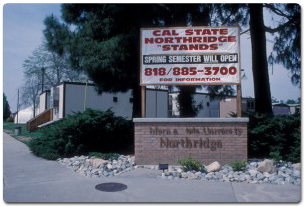 The 6.7-magnitude Northridge Earthquake occurred at 4:31am on Monday, January 17, 1994. Its epicenter was around Wilbur Avenue and Arminta Street in Northridge, about a mile from campus. The earthquake and subsequent aftershocks caused extensive destruction to the Northridge and Sherman Oaks areas. Numerous buildings on the California State University, Northridge campus sustained severe damage, including the Oviatt Library. A second library building on campus, known as the South Library, was so badly damaged it was condemned and slated for demolition after the quake.
CSUN's digitized University Archives include numerous photographs, reports, memoranda, artifacts, and ephemera documenting the earthquake and its aftermath. A small exhibit in Special Collections and Archives focuses on the earthquake's impact on campus, and includes photographs, university records, artifacts, and ephemera.
Read more about the 20th anniversary of the 1994 Northridge Earthquake at Special Collections & Archives – Peek in the Stacks.
Visitor Information
Parking is $8.00. For more information about parking please see Visitor Information.
To arrange assistance for persons with disabilities, including interpreters for deaf and hard of hearing persons, please call (818) 677-2638 in advance of the event.