eNews Edition: Fall 2017
Contributed by Oviatt Library Student Assistants Debbie Salazar and Alexandra Figueroa.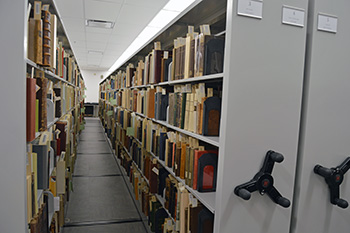 After much collaboration, planning, and noisy late-night construction the Oviatt Library's second floor has been transformed. Special Collections & Archives is a beautiful new space where students and researchers discover the many wonderful rare items that Special Collections & Archives houses. Before its extensive modernization, the Reading Room was tucked far away in the southwest corner of the Library Exhibit Gallery, and collections were stored in rooms all over the Library. In the new space the Reading Room, modern compact shelving, and staff work areas are now all in the same area, making it easier for both staff and patrons to access Special Collections materials. The expansion and remodel includes a warm and welcoming wood paneled Reading Room with beautiful glass windows that provide high visibility and a service desk. The Reading Room offers abundant seating and multiple areas for students, faculty, staff and visiting scholars.
One of the striking results of the renovation is the new larger compact shelving area, which is highly configurable and provides optimal space and conditions for storing rare materials. "We had several goals for the renovation at the outset, and were able to realize most of them," says Ellen Jarosz, Head of Special Collections & Archives. Jarosz added that the renovation ensured that the entire rare book collection is now housed in a secure climate-controlled environment, and is in closer proximity to the Reading Room. The renovation also ensured everyone who works in Special Collections & Archives can now collaborate in the same space, instead of spread across the Library. Prior to the renovation, staff were dispersed across all five floors of the Oviatt. Another fantastic addition to the space is a new fully-equipped classroom in which students will receive instruction in how to use primary and archival sources in their research.
This gorgeous transformation of the Special Collections & Archive space was made possible by the generous estate gift of $2.5 million dollars from the Jack and Florence Ferman Trust. The Fermans were philanthropists at heart, and had a keen interest in preserving great works. Both Jack, a successful businessman, and Florence, an artist and CSUN alumna, were longtime friends of the Oviatt Library, which makes this gift that much more meaningful. For more information about Planned Giving, or one of the many other ways to give to the Library, please click on one of the giving links in this newsletter, or contact Joyclyn Dunham via email, or at (818) 677-2638.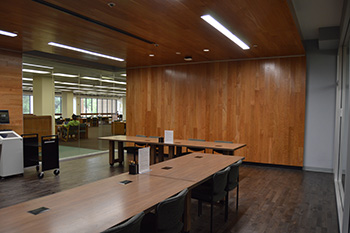 The Oviatt's Special Collections & Archives is home to extensive materials and houses five major collections: the University Archives, Urban Archives Collections, the International Guitar Research Archives (IGRA), Old China Hands Archives, and Special Collections. The collections and items of interest are regularly highlighted in the staff-contributed Special Collections & Archives blog Peek in the Stacks.
For more information and hours of operation, please visit the Special Collections & Archives page. Find out more about Special Collections by reading our What's Up article to find out how to join us as we celebrate the grand opening of the new Special Collections & Archives space. As well, check out our We Would Like you to Meet article in this issue of our eNews to learn more about Ellen Jarosz, Head of Special Collections & Archives.
Watch our time-lapse video of Special Collections & Archives construction below!