April 20, 2018 - 11:30am
Orange Grove Bistro - Lamb's Lounge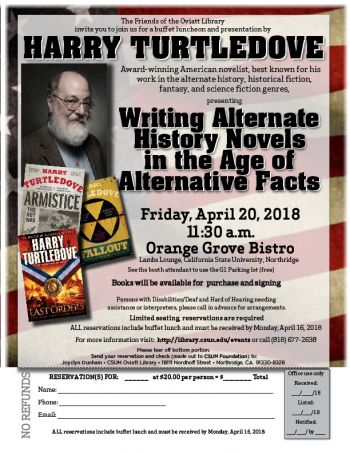 The Friends of the Oviatt Library at California State University, Northridge (CSUN) will host "Writing Alternate History Novels in the Age of Alternative Facts," with a luncheon, discussion, and book signing with local author Harry Turtledove.
Harry Turtledove is an award-winning historical fiction, science fiction, and fantasy author, who is best known for his alternate history works, including the World War series, The War That Came Early novels, and the Hot War series. Numerous Sidewise Awards and nominations over the last two decades have been bestowed on Turtledove's works including How Few Remain and Ruled Britannia. In the 1980's, Turtledove worked as a technical writer for the Los Angeles County Office of Education and he also served as the Treasurer for the Science Fiction Writers of America. In 1991, he turned to writing full-time. In 2017, Turtledove's Fallout: The Hot War received the Dragon Award for Best Alternate History. Turtledove holds a Ph.D. from UCLA in Byzantine History and is married to fellow novelist Laura Frankos.
"We at CSUN are privileged to have one of our preeminent local authors come to campus," says Oviatt Library Dean Mark Stover. "Harry Turtledove's talk, which juxtaposes his unique genre of writing with one of the most pressing problems of our day, is sure to be provocative and compelling."
The buffet-style luncheon, presentation, and book signing with Harry Turtledove is on Friday, April 20, 2018, beginning at 11:30 a.m. at the Orange Grove Bistro located on the CSUN campus. The price of this event is $20.00 per person, and free parking is available in the G1 parking lot. A selection of Turtledove's books will be available for purchase. For more information about this event, or to make a reservation, please call (818) 677-2638, or print our event RSVP flyer (.pdf). All RSVPs should be received by April 16th.
Assistive Services
Requests for accommodation services (e.g., sign language interpreters or transcribers) must be made at least five (5) business days in advance. Please call (818) 677-2638 in advance of the event.