March 11, 2020 - 3:30pm to 8:00pm
University Student Union - Grand Salon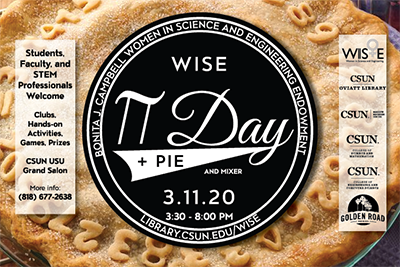 Join us for our Pi Day Celebration where you will have the opportunity to do hands-on pi (and pie) themed activities. Watch as CSUN Clubs show off some of their work, and network with students, staff, faculty, local educators, and STEM professionals. The networking portion of the event will be composed of activities, presentations, and appetizers. Stop by for a few minutes or a few hours.
3:30 - 5:30 PM Clubs, Games, Prizes + Pie
6:00 - 8:00 PM Networking Mixer
USU Grand Salon
California State University, Northridge
18111 Nordhoff Street • Northridge, CA 91330
Sponsors: Campbell WISE Endowment, Oviatt Library, Marilyn Magaram Center, College of Science and Mathematics, College of Engineering and Computer Science, Michael D. Eisner College of Education, Golden Road Brewing
Free parking for the first 50 reservations. For additional information call (818) 677-2638. Persons with disabilities needing assistance and deaf and hard of hearing persons needing interpreters, please call in advance for arrangements.
Visitor Information
Parking is $8.00. For more information about parking please see Visitor Information.
Requests for accommodation services (e.g., sign language interpreters or transcribers) must be made at least five (5) business days in advance. Please call (818) 677-2638 in advance of the event.